Hüsnü Şenlendirici (Turkey)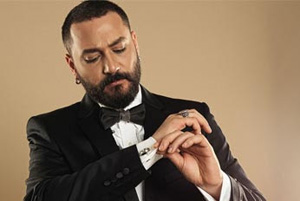 Hüsnü Şenlendirici learned and experienced Aegean and Anatolian culture in his childhood. After leaving the Turkish Music State Conservatory at Istanbul Technical University he began working with percussionist Oktay Temiz, and participated in various festivals with the group "Magnetic Band". Şenlendirici also joined his father and clarinetist Ergun Şenlendirici's group "Laço", and attended many important music festivals. Hüsnü has performed with various Turkish and foreign musicians, and has played not only Turkish music, but also Turkish pop and jazz music. In 1996, Şenlendirici founded "Laço Tayfa", and released the album "In the Buzbag" with the Brooklyn Funk Essentials. In 2000, he released his first solo album "Bergama Gaydası." Şenlendirici has also performed for various TV dramas, films and commercial music. He also performs as part of Taksim Trio.
www.facebook.com/HusnuSenlendirici
Söndörgő (Hungary)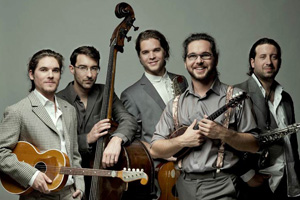 Hungarian band Söndörgő aims preserve Southern Slavic traditions of the Serbs and Croats as found in various settlements in Hungary. Founded in 1995, Söndörgő isn't playing brass band music, it is a tamburitza band. The tambura is a small and agile plucked instrument similar to the mandolin which is occasionally supplemented by wind instruments and accordion. Söndörgő's traditional repertoire is made up of material gathered by Béla Bartók and Tihamér Vujicsics as well as learned from old masters of the tradition. Discover with them the delicate beauty and fizzing power of a different Balkan sound. Come and dance the čoček, drink a palinka and get dizzy on Söndörgő's extraordinary rhythms.
www.sondorgo.hu
Kaynak Pipers Band (Bulgaria)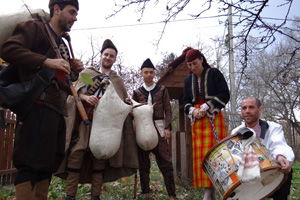 Kaynak Pipers Band from Bulgaria is а kaba gaida (Bulgarian bagpipes) band formed to continue the traditions of gaida performance. Kaynak means 'source' and is used to describe a state of the player when the music that he plays come straight from his soul. Often the gaida player performs a virtuoso solo demonstrating his top skills. The gaida is played on weddings, celebrations and events. As people in the Balkans say "A wedding without a bagpipe is like a funeral." The interest for the kaba gaida increases and it is recognized globally on the ethno-jazz scene as well as a good instrument for early childhood development and stress management. The natural materials used – wood, horn, skin and cotton and the way it is made bring the specific voice and vibration of the gaida and often the voice of the mountain can be heard in the tunes and the ornamentation used. This group is composed of three gaida players, a drummer and a vocalist. They have worked extensively in workshops for musical therapy and performances for children. Indeed, the music of this region is known for its deeply therapeutic character, aspects of which can lead to musical catharsis.

multifloraproductions.com
Inspector Gadje (San Francisco)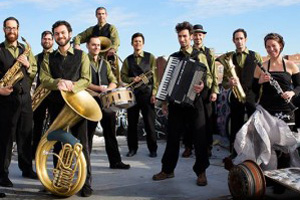 With up to 12 horns and 2 percussionists, Bay Area-SF-based Inspector Gadje brings a big sound to the beautiful and bumpin' brass band music of the Balkans of south-eastern Europe igniting the dance floor and making the party wherever they play. Original inspiration for the group came from many years of collaboration between the Brass Liberation Orchestra (BLO), a progressive social activist street band, and the Voice of Roma, a non-profit organization that supports Romani community and cultural causes world-wide. Members of the BLO elected additional musicians to form Inspector Gadje. The name "Inspector Gadje" is not only a playful reference to the popular 1980's cartoon show "Inspector Gadget," but also to the bands' non-Romani identity as "gadje." Inspector Gadje believes that autonomy is one way to survive the earthquakes of the modern music industry. As such, management, booking, PR, graphic design, and web development are housed internally within the band, or with close friend: Serbian producer DJ Željko of Kafana Balkan. The band has cultivated cultural emissary roles, where a number of ensemble members travel annually to Balkan countries (including Greece, Macedonia, Turkey, Romania, Albania) in order to study from masters and bring back learning and new sounds to the ensemble. Gadje also invites masters of the tradition to collaborate with them on their home turf of the Bay Area, keeping an ongoing loop of cultural exchange alive. This is traditional music for the 21st century. Inspector Gadje engaged in master workshops with Kocani Orkestar (from Macedonia), Ivan Milev (from Bulgaria) and Ismail Lumanovski (from Macedonia).

www.inspectorgadje.com
Zlatne Uste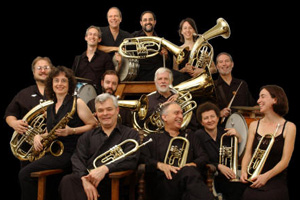 From Kolos to Kusturica, experience the rich sounds of driving Balkan brass. Zlatne Uste (Golden Lips) is an internationally known group of American-born musicians playing traditional music of the Balkans, primarily representing Serbian, Macedonian, Bulgarian and Romany (Gypsy) traditions. Four-time invited guest at the Dragachevo Brass Festival in Gucha, Serbia, the 12-piece band is among the foremost presenters of traditional Balkan dance music in the United States. Each year Zlatne Uste hosts and produces the Golden Festival, New York's biggest and best Balkan music festival with an astounding 40 or more bands and something for everyone.

www.zlatneuste.org/

Tipsy Oxcart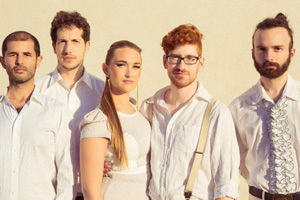 Tipsy Oxcart plays electric, sweaty, bumpin' Balkan music, channeling the spirit of 36 hour weddings to keep the crowds dancing until the sun comes up. Serving up originals and fresh, upbeat arrangements of urban dance tunes, the band deviously infuses the sounds of South-Eastern Europe with elements of jazz, funk, and more. Dig naughty violin solos, atomic accordion grooves, freak-me-out clarinet, and the baddest rhythm section this side of the Mediterranean. A party with Tipsy Oxcart is guaranteed to shake the dance floor all night long!

tipsyoxcart.com

Ismail Lumanovski (Macedonia)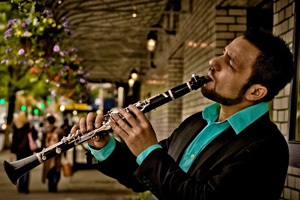 The extraordinary clarinetist Ismail Lumanovki has launched a major career as a soloist, chamber musician in both classical and cross-over repertoire. His synergistic blend of natural talent and training combines the spirit of folk music with the discipline of classical music. His performances have been widely reviewed. The New York Times wrote of his work under Pierre Boulez, "the soloist — the brilliant, fearless young clarinetist Ismail Lumanovski — aligned himself with various instrumental contingents of the large ensemble". Born in Macedonia, Lumanovski started playing the clarinet at age eight. He holds a Bachelor of Music Degree and Master of Music Degree from the Juilliard School of Music in New York. Professionally, Lumanovski has had the privilege to perform with innumerable extraordinary musicians and orchestras including: Die Deutsche Kammerphilharmonie, The Berklee Middle Eastern Fusion Ensemble, New Juilliard Ensemble, World Youth Symphony Orchestra, The Palestine Youth Orchestra, Lucerne Festival Orchestra, Macedonian Philharmonic Orchestra, Marcel Khalife, Al Di Meola, Husnu Senlendirici, Selloane Nkhela, and Zulfu Livaneli. Lumanovski is also a master improviser and performer of Macedonian, Turkish and Gypsy music and is presently touring with the renowned New York Gypsy All-Stars, playing throughout the US, Europe, and Asia and The Secret Trio.

www.ismaillumanovski.com

The Brooklyn Oryantal Parti
tbody>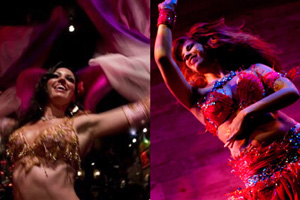 The Brooklyn Oryantal Parti is an exciting new collaboration between NYC's thriving bellydance community and renowned world musicians. Here to bring you a night of exhilarating live music and dance from the Middle-East and the Mediterranean, the BOP kick-off party will feature the musical talents of Souren Baronian, Robert Bogosian, Mal Stein, Zafer Tawil and dance performances by Mariyah, Layla Isis and more guests to be announced soon. Join the party and get up and dance with us!

www.laylaisis.com
www.bellydancernewyork.com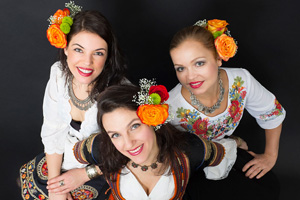 Vlada Tomova, known for her "phenomenal acrobatic vocalizations" (Boston Globe) joins with dynamic vocalists, Valentina Kvasova and Shelley Thomas, to form Bulgarian Voices Trio to weave together traditional Bulgarian villiage styles with artfully arranged a cappella songs, and reveal the disarming power and intimacy of the unaccompanied voice. Joyous, mysterious, mournful, exuberant, mesmerizing melodies; rich unusual harmonies; and peculiar, odd rhythms come together to shimmer, intrigue, and delight the ear.


www.vladatomova.com