Fanfaraï (France/Algeria)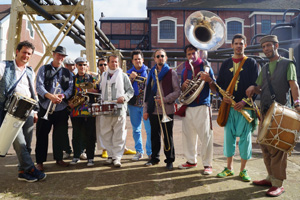 French from Britany, French Algerians, French Moroccans, French who suddenly discover that they are Algerians, jazz musicians who suddenly discover a passion for the Maghrebian 6/8... and begin to sing in Arabic, Berber and Turkish and to dance like the Gnawa... These funny boasters make up the Fanfaraï band, a Rai UFO matured in the copper sun of North Africa which breathes intercultural harmony and offers a sensory journey - without a visa, we might add – to the southern shores of the Mediterranean, Turkey and elsewhere. " Great Happines, indeed!
www.facebook.com/Fanfarai
Memoria Antigua (Spain)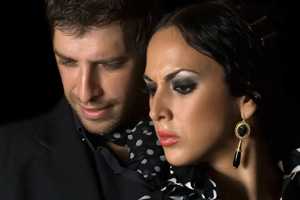 The vivid and moving flamenco production Memoria Antigua explores music and dance from the far reaching corners of Spain and Andalusia, and it strives to present flamenco styles that have fallen into disuse, including the seguiriya de Frijones from Jerez, the cantiñas de Pastora and Lebrija, and the Trilla and the Zángano of Puente Genil. Through live music and dance, award-winning dancer/choreographers Patricia Ibáñez and Abel Harana take a look back at flamenco's origins and pay homage to their ancestors who toiled in the fields, but who also created a varied artistic body of work rich in emotion and cultural relevance.
www.patriciaibañez.com
Karolina Cicha (Poland)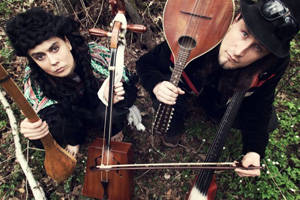 Karolina Cicha and Bart Pałyga will present "Many Languages," which is built on the innovative style of the two performers, their charisma, and their experience in musical expression from folk, ancient and rock music projects. Many Languages features songs in the minority languages of the Podlasie region of northeast Poland, bordering Russia, Lithuania and Belarus: Ukrainian, Lithuanian, Russian, Romani, Belarusian, Yiddish, Polish, Tatar and Esperanto. Traditional folk instruments, such as the morinhuur, dorar, drumla, duduk, accordion, pipe and mandolin are joined by modern samplers and loopers, as well as ancient overtone singing. Karolina Cicha is a vocalist, composer, actor and multi-instrumentalist. Her latest project, "Poland – Pakistan: Music Without Borders" is a collaboration between Karolina Cicha and Shafqat Ali Khan, a songwriter and master of the ghazal.

www.karolinacicha.eu
Zedashe (Georgia)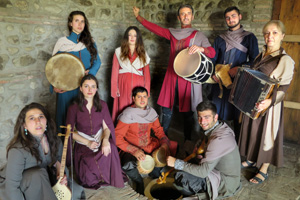 The Zedashe ensemble is based in the medieval fortress city of Sighnaghi, Eastern Georgia. Directed by Ketevan Mindorashvili, the current incarnation of the ensemble was founded in the mid 1990s to sing repertoire consisting of ancient three-part harmony chants from the Orthodox Christian liturgy, folk songs from the Kiziqian region as collected from village song-masters and old publications, and folk dances from the region. The Zedashe Ensemble also sings repertoire from other regions in Georgia. Folk song genres include field-songs, love songs, historical ballads, war dance songs, and ritual circle dances, and are accompanied by the chunir (Svan lute), panduri (Kiziq lute), chonguri (Gurian lute), doli (drum), chiboni (goat-skin bagpipes), and accordion. Zedashe has toured internationally with appearances at major festivals and Universities in the UK, the Netherlands, Belgium, Italy, Lithunia and the US.

www.zedashe.com
Via Romen (Russia)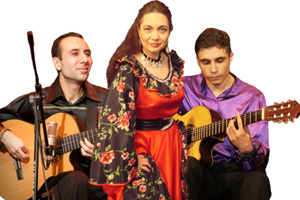 The Romany (Gypsy) musical legacy is most notably characterized by its clever synthesis of known musical genres with the lesser known or unknown. Via Romen is the embodiment of this legacy, of lacing tradition with novelty. Founded in 2004, Via Romen has performed to glowing reviews across North America and has established itself as the continent's premier Russian-Romany (Gypsy) group. Nuevo Russian–Romany Music is a new style, the original creation of Via Romen members. Drawn from a vast repertoire originating in Eastern and Western Europe and enriched by jazz, Jewish, and Latino styles, this music is modern, innovative, fresh and often deeply emotional. The Via Romen band consists of Vadim Kolpakov (Russian seven-string guitar, dance and vocals), Eugenia Zolotariova (vocals), and Alex Kolpakov. Vadim Kolpakov was also part of Madonna's "Sticky & Sweet" 2008/2009 world tour as members of the Kolpakov Trio.

www.viaromen.com/

Frank London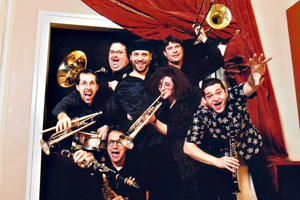 Frank London is a New York City-based trumpeter, bandleader, and composer active in klezmer and world music. He also plays various other wind instruments and keyboards, and occasionally sings backup vocals. With The Klezmatics, he won a Grammy award in Contemporary World Music for "Wonder Wheel. London is best known for his role as trumpeter in the New York City-based klezmer band The Klezmatics. He is also a member of Hasidic New Wave and leads Frank London's Klezmer Brass Allstars.

http://www.franklondon.com
Slavic Soul Party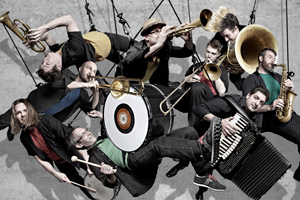 Fiery Balkan brass, throbbing funk grooves, Roma (Gypsy) accordion wizardry, and virtuoso jazz chops: Slavic Soul Party! is just what it says. These nine musicians have created an acoustic mash-up of Balkan and Gypsy sounds with North American music, weaving the gospel, funk, dub, jazz, and Latin influences of New York's neighborhoods seamlessly into a Balkan brass setting and always "delivering a great time." (New York Times)

www.slavicsoulparty.com


Cocek Brass Band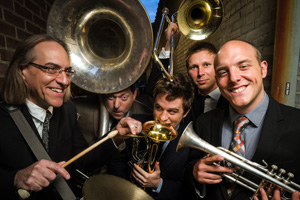 Cocek! Brass Band is the brainchild of trumpet player Sam Dechenne. The band performs original music by Dechenne based on the sounds of Eastern European brass bands. They are a 5-piece group (2 trumpets, trombone, tuba and bass drum) that rocks the house on a very regular basis. The band's members come from internationally touring ensembles like John Brown's Body and Itzhak Perlman and bring a blend of dance music with stellar improvisation and melodies that evoke crazy dancing, contemplative thoughts and good times.

TriBeCaStan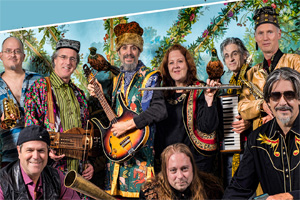 Defying boundaries between world, folk, and jazz, the evolving collective of TriBeCastan is an exuberant collaboration by some of New York's finest jazz and world musicians. TriBeCaStan's fifth studio album, Goddess Polka Dottess, serves up a feast of sonic flavors. Diverse elements of world music abound, with myriad styles and sounds skillfully woven together with great innovation. The band hops gleefully from India to Ethiopia, to Jamaica and Eastern Europe and back to New York with remarkable ease and characteristically sly wit. Bluegrass meets circus music and exotic desert vibes, and dervish dance meets ska, and such influences as 1920s-style swing, Looney Tunes cartoon music, '70s Quincy Jones, and East African dance music are evoked in the band's eclectic sound.

www.tribecastan.tv


Raya Brass Band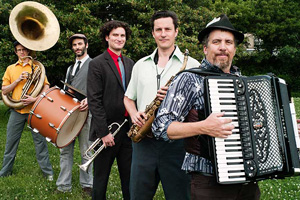 Since 2008 Raya Brass Band has energized clubs, international festivals, rooftop parties, and subway cars with its hard-driving, original brass band music. The six members of the band bring their unique voices to the group, creating a sound informed as much by their love for the fierce and seductive music of the Balkans as it is by New Orleans brass bands, punk rock, and global music. Featuring trumpet, sax, accordion, tuba, and percussion, this band wails, sweats, and shouts alongside its audience.

DJ Spinach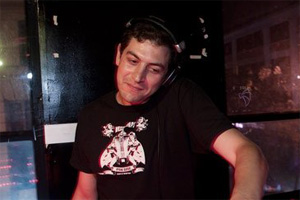 Born in Siberia and spent most of my childhood in Moldova I was exposed to a variety of folk and ethnic music. I always thoroughly enjoyed playing with my stereo and drumming to the rhythms using house chairs. Music always fascinated me as a tool of transformation into a different reality. I began my deejay carrier playing tunes at the house parties and friend's birthdays and weddings. I organize dozens of concerts and parties in NYC each year. My music interests vary, I like to play across the board Ska, Reggae, Rocksteady, Jazzy Hip-Hop, Afro Beat, Funk, Disco, Retro World music. I collect Vinyl Records. I love setting the dance floor on fire using my unique mixture of world rhythms. I produced "Swingin'Penguin" Electro Swing Parties, Soviet 80′s Parties, as well Multiple Live Concerts and Events. I currently work under my own label JewFro Records Inc in collaboration with DJ Earthian.
New Yorker Ensemble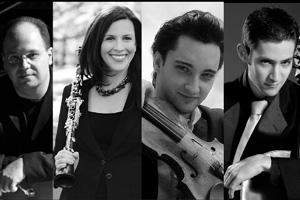 New Yorker Ensemble's "Gypsy in Classical Music" program features an exciting list of classical composers from Beethoven to Gershwin that is inspired by gypsy music from Turkey, Hungary, Russia, Spain, France and Austria. New Yorker Ensemble is a New York based performance group founded by Emir Gamsızoğlu (Pianist/Composer) and Ege Maltepe (Theater Artist). New Yorker Ensemble has singers, actors and dancers as well as musicians and started their performance life in 2013 with concerts and interdisciplinary projects such as Drama in Beethoven and Talking to Schubert. This program will feature Emir Gamsızoğlu (piano & composer), Angela Shankar (clarinet), Artur Kaganovskiy (violin) and Michael Katz (cello).

www.classicalforall.com

Balti Mare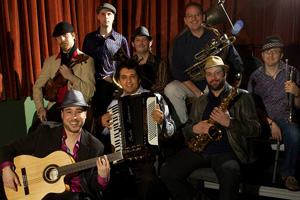 Founded in 2009 Baltă Mare is a Balkan Roma inspired ensemble whose name is an homage to their hometown, Baltimore, and translates to "large pond" in Romanian. Baltă Mare blasts visceral dance rhythms, exotic Oriental melodies, twisting time signatures, and tempos that ebb and flow into a cathartic frenzy capturing the energy and soul of the music. The ensemble mixes strings, brass, and percussion in the spirit and tradition of the Roma wedding and funeral bands of Romania, Serbia, and Hungary. Baltă Mare captivates and entices with a combination of traditional, modern, and original compositions that promise to have you on your feet dancing in yet uninvited directions. Hopa!

www.facebook.com/baltimare


Bad Buka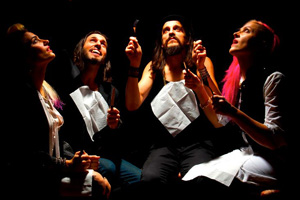 What happens when you cross the charm of Balkan Romani Cabaret, world funk and punk-rock? Bad Buka! An uplifting musical and theatrical family centered band that unifies crowds, cultures and ages. For the past 7 years they have developed a reputation of being a tight, original and dynamic tour de force. Playing big electric shows as well as draw listeners into smaller more intimate acoustic performances. The old world meets the new in Bad Buka's music.

Underground Horns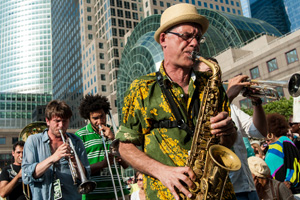 Underground Horns is a Brooklyn based brass band playing Afro, Funk, Bhangra New Orleans grooves and beyond. AllAboutJazz called their 2009 debut record FUNK MONK "kick-ass dance music…that brushes up against psychedelia…with shots of funky brass juice." In 2010 they recorded their second album BIG BEAT "an unapologetic party band with brains...with tonal inflections from the Big Easy, central Africa, the Maghreb and the Baltic states." (The New York Jazz Record). Underground Horns performed internationally in Egypt, Germany and most recently at Tudo é Jazz in Brazil, stateside at the Lowdown Hudson Blues Festival, NYC Winter Jazz Festival, Lincoln Center and various Jam Band Festivals, sharing the bill with Rebirth Brass Band, Big Sam's Funky Nation and B.B. King. In the big city they make people dance in subway stations, parks and at their club dates at nublu, the Blue Note and Brooklyn Bowl, among others. They also have been playing as a marching band, namely at the spectacular NYC Village Halloween Parade.

www.undergroundhorns.com


Hungry March Band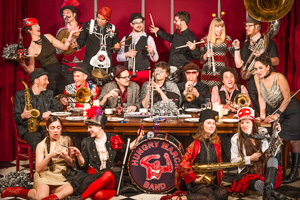 Hungry March Band, NYC's award-winning brass ensemble and performance group, has a well earned reputation for mythical revelry with almost two decades of mermaid and Halloween parades, rural raves, subway parties, eccentric weddings, processionals for punk rock patron saints, and many other forays into the territories of the free spirit. Their music is a melting-pot of world brass traditions, encompassing music from New Orleans second line, Balkan gypsy, New York punk, Bollywood brass, Detroit funk, Latin American samba, and more.



Hybrid Movement Company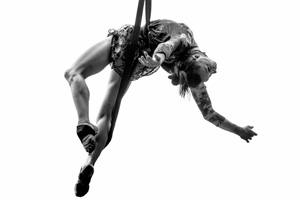 Hybrid Movement Company are a NYC based Contemporary Circus Company. In a light painted landscape they dance their love, they tumble like others speak, and they slide at full steam. Aerialists spin and fly through the air mixing up physical and musical tempos all inspired by the eclectic sounds of Les Yeux Noirs. Their performance structure takes cues from the history of performance art, classical ballet, b-boying, ground and aerial circus arts, music, architecture and cityscapes. From ground to air, their performances from the imagination soar, flow and sweep using human bodies, human thoughts and human feelings.