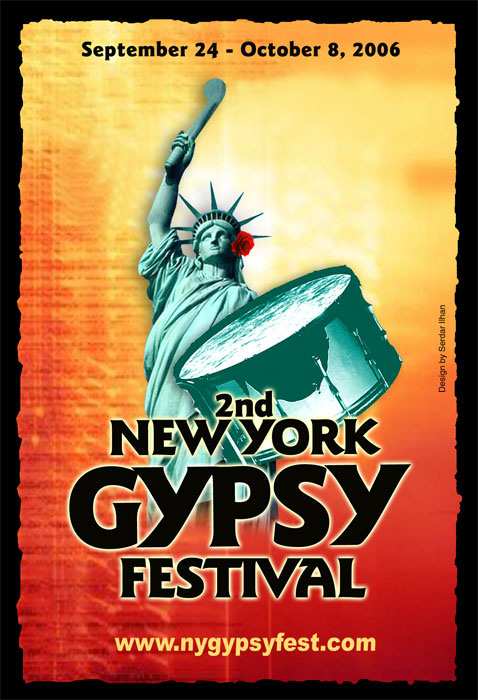 ........... UPDATES............
SPECIAL SHOW
Thursday, October 5th Tatiana Club at 8pm $40
New York Gipsy Festival Presents
Master of Seven strings Guitar, Alexander Kolpakov Trio from Moscow
Alexander Kolpakov / Vadim Kolpakov / Ludmila Kolpakov
Russian Gypsy Music
Solo show in Tatiana Club
http://www.tatiana-restaurant.com

Listen Russian Radio 87.7 fm
and win free tickets for
7th and 8th of October shows
WORKSHOP WITH KAL
SATURDAY, SEPT 30TH, 12-2PM
at BARBES
Slavic Soul Party! presents Serbian Rom stars KAL in a workshop at
Barbes on Saturday, Sept 30th, 12-2pm. All of KAL will be there, to
teach a tune to musicians, and/or to talk about whatever the audience
wants to ask about. This is an unprecedented opportunity to ask Rom
(Gypsy) musicians from the Balkans about Rom music. These musicians
are sophisticated, urban musicians, totally rooted in Serbian Rom
music, and they are dedicated to evolution and education. This is an
unprecedented opportunity to hear them talk about what it means to be
Rom in Eastern Europe and the world right now; to learn a song from
true masters; to fine tune your understanding of what makes Rom music
unique. Any of it! Musicians, bring your instruments, and do not
miss this opportunity!
KAL's instrumentation is voice, two accordions, violin, guitar, bass,
and drums. Leader and guitarist Dragan Ristic is also director of
the Amala School for Romany Culture in Serbia, and is fluent in
English, so this is a great opportunity to learn more about music and
dispel myths of the Gypsies. Please come, and support this band on
their US tour. And find out why they are so hot in Europe in concert
halls and dance clubs...

Global Gypsy party
From being persecuted to celebrating their roots, old and new Roma musicians come to the region for two week music festival
Wednesday, September 27, 2006
BY MARTY LIPP
For the Star-Ledger
Romanticized and persecuted, celebrated and shunned, Gypsies have become a growing presence in the world music circuit since the fall of Communism -- yet the everyday prejudice they face across Europe has persisted, and sometimes worsened.
Even the word "Gypsy" is a misunderstanding, based on the notion that they are descended from Egyptians, though their ancestors actually migrated in the 11th century from Rajasthan in northwestern India. In recent years, the name they call themselves in the Romani language, Roma, has been increasingly embraced. By the 15th century, there were Roma communities in Eastern Europe, as well as the Iberian peninsula. Over time, the Roma adopted the culture of their new homes, losing touch with other cousin communities.
During the Soviet era, Eastern European countries promoted folk music, much of which was played by Roma, but did not allow it to be identified as Romani. In Bulgaria, the Romani language and music were banned, yet the creators of the popular "Bulgarian wedding music," Ivo Papasov and Yuri Yunakov, were Roma.
Yunakov was harassed and his family threatened, and was granted political asylum in the U.S. in the 1990s and now lives in Bloomfield, playing for parties for a wide variety of ethnic groups and is featured in the New York Gypsy Festival. (See schedule).
In its second year, the festival, which ends Oct. 8, brings together traditional European musicians and young American groups, and has helped to raise awareness of the Roma/Gypsy culture in the region.
In many European countries, Roma made up the majority of musicians who animated baptisms, parties and three-day weddings. Aside from a penchant for improvisation and adaptability, Romani music differed with each country. The composer Liszt said Roma were "the sources and creators of all that is good in Hungarian music." Tolstoy and Pushkin glorified what they saw as the Roma's free spirit. Django Reinhardt's "Gypsy jazz" became the toast of Paris in the 1930s, still celebrated today, including a festival at Birdland in Manhattan Nov. 7-12 (www.birdlandjazz.com).
But despite their acceptance as musicians, Roma were ill-treated: harassed and expelled, enslaved for five centuries in Romania; women were sterilized in Czechoslovakia. In Nazi Germany, Roma were made to wear a "Z" for zigeuner, sent to concentration camps; more than 600,000 were murdered. In Spain, Roma were the principal architects of flamenco, now seen as quintessential Spanish music, yet in one song, the Gitano narrator says, "I find myself envying the respect you give your dog."
The Modern Roma
Today there are 8 to 10 million Roma worldwide. Their unemployment rates across Europe are 70-80 percent or more, while their children are often denied a proper education, many placed in schools for children with learning disabilities. A cruel irony is that since Communist domination fell in Eastern Europe, ancient prejudices have come to the fore just as Roma musicians have come to international attention.
Carol Silverman, a professor of anthropology and folklore who specializes in Romani culture at the University of Oregon, said that because several Eastern European countries want to be part of the European Union, they have promised to do better by the Roma. However, progressive initiatives have been largely "empty rhetoric," she said, in part because Western Europe has its own history of mistreating the Roma.
Taraf de Haidouks exploded on the international circuit of folk and world-music acts, picked up by the prestigious Nonesuch label. Yet it would be 10 years before the group of small-town Roma would play in the Romanian capital of Bucharest (documented in the DVD-CD "The Continuing Adventures of Taraf de Haidouks").
Caravan of Romani music
Another watershed event for Romani music was the 1994 release of the quasi-documentary "Latcho Drom," which recreated the immigration across Europe through a series of musical set pieces. Several compilations followed, such as "The Gypsy Road" (Alula), and the Manhattan-based World Music Institute organized the international "Gypsy Caravan" tour. During those shows, the Haidouks inevitably mixed it up with the paying customers, even busking for change on the street afterwards.
The success of the Haidouks helped pave the way for other Roma groups. Veteran performers such as Serbia's Boban Markovic Orchestra, Romania's Fanfare Ciocarlia, Macedonia's Kocani Orkestar were heard by international audiences. The German company Asphalt Tango is now releasing "Sounds from a Bygone Age," a series of forgotten albums featuring Roma musicians such as the Romanian trumpet player Costel Vasilescu, who performs tomorrow at the Gypsy festival.
Vasilescu, 66, began playing parties in the mid-1950s and played at hundreds through the years.
"After the revolution, people started looking to the western countries," he said. "They grew up with this music, it was performed at their baptism and they can't play it anymore? Terrible."
Due to bad economic conditions in Eastern Europe, weddings have been scaled back; using just one or two musicians with an electronic keyboard. Dragan Ristic of the young Romanian group Kal, called these keyboards a "curse" on Romani music. Kal, however, has gained notice by taking traditional Romani elements and adding electronics. Romania's Mahala Rai Banda unites young relations of the Haidouks with former Moldavian soldiers for an updated take on Romani music.
The next generation
The increased exposure of Romani music has lead to a new generation of imitators. Gogol Bordello, led by non-Roma Eugene Hutz, created a so-called "Gypsy Punk," though it had little to do with Romani music. New York-based bands such as Zlatne Uste, Slavic Soul Party, Hungry March Band, the Zagnut Cirkus Orchestra -- all playing at the Gypsy Festival -- play Roma and Eastern European music, sometimes with other influences.
Silverman said there is nothing wrong with non-Roma playing Romani music, but she said they should educate as they entertain. She said her concern is that the word "Gypsy" is getting tossed around carelessly to be synonymous with anything from "Eastern European" to "wild."
Jeff Perlman of the New York band Romashka, which will be at the Gypsy festival, said several members of the band started playing klezmer music, but were attracted to Romani music. "It's great party music. It's visceral and really grabs people."
Frank London said his Klezmer All-Stars, who will play at the festival, can easily move between klezmer and Romani music "because they're first cousins....they were formed in the same place."
Sari Rifati formed Voice of Roma, a California-based group that works to improve conditions for Roma and educates "gadje" or non-Roma, about them. While acknowledging that Roma musicians are raising awareness about their people, he worries that they are also unintentionally reinforcing the stereotype of Roma as just being exotic entertainers.
The rise of Romani music, he said, "is a blessing and a curse."
The New York Gypsy Festival Highlights
-- Costel Vasilescu/Slavic Soul Party. Tonight at 8, Skirball Center for the Performing Arts, New York University, 566 La Guardia Place (Washington Square South). Vasilescu's velvet-toned trumpet has been a feature at hundreds of weddings, and now he makes his U.S. debut. Slavic Soul Party plays Balkan brass music with an undercurrent of jazz. $32. Call (212) 279- 4200 or visit www.skirballcenter.nyu.edu.
-- Hungry March Band. Oct. 3 at 10 p.m. at M 1-5, 52 Walker St.. This 25-member, fun-loving New York group plays a variety of styles, from Eastern European Romani to New Orleans to Indian wedding music. $10. Call (212) 965-1701.
-- Clarinet All-Stars featuring Yuri Yunakov, Oct. 4 and 6 at 11:30 p.m. at Joe's Pub, 425 Lafayette St. Top Roma clarinetists from three countries should let fly breakneck improvisational jams in some unusual time signatures. $30. Call (212) 239-6200 or visit www.joespub.com.
-- Frank London's Klezmer Brass All-Stars. Oct. 4 at 9 p.m. Oct. 4 at M 1-5. London's posse pays tribute to its musical cousin, Balkan Romani brass music. $20.
-- Zagnut Cirkus Orkestra/Zlatne Uste. Oct. 5 at 10 p.m. at M 1-5. Two local bands playing fairly straightforward takes on lively traditional Balkan dance styles. $15.
-- Gipsy Kings/Romashka. Oct. 7 at 8 p.m. at The Roxy, 515 W. 18th St. New-generation bands, one from southern France; the other New York-based, playing a pastiche of East European styles. $35-$40. Visit www.ticketweb.com.
-- For more information, visit www.nygypsyfest.com. Tickets for M 1-5 shows are available at the door only.
Kal, "Kal" (Asphalt Tango) -- These young musicians from Serbia play traditional and original songs that meld Romani elements with a shot of modern electronics.
Ion Petre Stoican, "Sounds From a Bygone Age, Vol. 1" (Asphalt Tango) -- An unlikely story: an unknown musician in the 1960s catches a spy and the government rewards him with a record contract, so he assembles an all-star band of Roma musicians, including Costel Vasilescu, then fades back to obscurity.
Kocani Orkestra, "Alone at My Wedding" (Crammed Discs). This big Macedonia brass and drum band has proven over the years to have the requisite energy to keep revelers moving for three-day weddings.
Boban Markovic Orkestra, "The Promise" (Piranha). The "King" of Gypsy brass, the flugelhorn-playing Markovic of Serbia introduces his son to the brass-and-drum band, which plays with precision and dazzling speed.
Rumen and Angel Shopov, "Soul of the Mahala" (Voice of Roma). Father and son play sweet and soulful string music from southwest Bulgaria.
-- Marty Lipp
The new bohemians
At a recent festival, the next generation of Gypsy musicians proves the hard-to-pin-down sound has found new life.
By Robert Christgau
...
SALON
Oct. 29, 2006 | Purity is always a misleading ideal. With the Gypsies, or Roma, an outcast people who've survived by syncretic adaptation since they left India a millennium ago, it's an impossible chimera. Charles Keil, one of many to search hard before concluding that "the real Gypsy music" is a myth, quotes a Kosovo musician: "We do not care whether it is Turkish, Serbian or Albanian. We just play it livelier." Such commonalities as "natural" singing, idiomatic phrasing, behind-the-beat attack, and minor chords don't distinguish it drastically from all the other folkish musics that stick it to Western classical strictures. And the counterclaim that Gypsies don't play their music for gadje, non-Gypsies, merely renders the "real" stuff a tree falling in the forest for gadje who follow various Gypsy musics whether they're pure or not.
Until recently the gadje's choices boiled down to melodramatic, multicultural flamenco, the truncated jazz tradition of Django Reinhardt and then, for too long oh Lord, the mawkish "rumba flamenca" of France's answer to Air Supply, the Gipsy Kings. The only visible export from Eastern Europe, where most Roma live, was gentrified folk Hungarian restaurant music. But post-Soviet Union, a few Western European record labels invaded Eastern Europe and changed this. In 1990 Stephane Karo and Michael Winter of Belgium's Crammed Discs trekked to the Romanian backwater of Clejani to assemble the violin-and-accordion-based Taraf de Haïdouks (Turkish for "band," French for "of," Roma for "outlaws"). In 1996, German producer and future Asphalt Tango head Henry Ernst assembled the Fanfare Ciocarlia brass band in another Romanian village, and Crammed responded by signing Macedonia's Kocani Orkestar (and then wresting the name from trumpeter Naat Veliov). Bulgarian clarinet master Ivo Papasov, Macedonian sax king Ferus Mustafov, and Boban Markovic's Serbian brass band are other major Gypsy-Balkan noisemakers.
Noise is key here. In the Taraf de Haïdouks model, vocals are subsumed in breakneck momentum, strange-tempered melody and sounds that seem extreme from the instruments you recognize and weird from the ones you don't -- especially the cymbalom, a miraculous hammered dulcimer whose rippling sound morphs toward balafon low and mandolin high (listen to a sampler of Gypsy music here). Gypsy brass is far ruder, aggregating modern and traditional trumpets and trubas and trombones and whatever into blowing that is messily melodic at one end and anarchically propulsive at the other -- dancing-on-the-tables music for that special moment when you're finding it hard enough not to collapse to the floor. Horns drive squalling dissonances and frantic drum and tuba rhythms whose funk makes hip-hop's seem tame, because at least you've gotten used to hip-hop's Africanness.
Until Nonesuch dropped the first U.S. Haïdouks album in 1999, I'd always found Gypsy music floridly hyperromantic; until I heard Boban Markovic's swozzled, cacophonous, lyrical, sometimes virtuosic "Boban I Marko" five years later, my distaste for massed brass extended all the way from Stan Kenton to Ray Barretto. But it was really Ukrainian-born, NYC-based Eugene Hutz and Gogol Bordello, a Gypsy-gadje meld that turned into the most exciting new alt-rock band in the world once Hutz learned to write songs, who drew me to this year's New York Gypsy Festival -- Gogol Bordello climaxed last year's inaugural edition, and Hutz hosted 2006's finale. As it turned out, the Gypsy Festival, stretched this year by Turkish-born promoter-restaurateur Serdar Ilhan from Sept. 25 to Oct. 8, wasn't strong on the stuff I was there for, only as it turned out, that didn't matter.
As Ilhan emphasized by showcasing Russia and Italy, Seattle and Brooklyn (not to mention the "Gipsy Kings 'New Generation'" at an ill-attended big-ticket gig), Gypsy music comes from all over. Music has been as much a Roma trade as metal smithing and horse dealing, and while gadje exaggerate Roma vagabondage, musicians do need to be mobile. But though I hated a few acts and heard more than enough of several others, Gypsy music is at such a fascinating point that I don't regret a groan or wince. I ended up more convinced than ever that, varied though Gypsy music is, its Balkan variants represent a special case. That's because, as Bosnia and Kosovo taught us, Muslims aren't immigrants in Eastern Europe. Gypsies' religious beliefs vary. But because the Roma are syncretists, Balkan Gypsy music sounds Islamo-Christian in a way even flamenco, which began in Moorish Spain, does not. For gadje it's mainly some new kind of party. But that party is inextricable from insane 13/8 meters and a tune stock that owes much to centuries of Ottoman domination.
After an insufferable full-length warm-up by Cafe Antarsia, an American theater-music troupe given to lyrics like "I'm just a wayward bramble/ My love is my guitar," the Serbian septet Kal opened the festival at Joe's Pub in the Public Theater on Sept. 25. Kal share their violin-accordion-guitar instrumentation with Gogol Bordello and showed as little interest in authenticity -- at one point their leader, Dragan Ristic, a Roma schoolteacher's son turned theatrical impresario turned bandleader, announced "a sad song" just before they launched into a double-time trifle called "Frutti Tutti." But they were much more mild, playful, and culturally representative about it, and it was fine. The pink-skinned, good-humored Ristic conveyed more savoir-faire with a cocked eyebrow than Cafe Antarsia could stuff into an entire songpoem. Though he wasn't an ace guitarist, he had a great time at it, notably with some Muddy Waters slide powered out not as a reference but as a common resource, just like the Nusrat Fatah Ali Khan speed syllabics. Islamo-Christian, no doubt. In clear English, he told us that he dealt in Romasomes, which were something like chromosomes: "Small social things all around us."
Kal were livelier than their Asphalt Tango album and embodied the contradictions of authenticity. Ristic is an educated Roma activist who formed Kal not just because he loves music, although it's a good thing he does, but also because he has a politico-cultural program. He comes to that program more naturally than Cafe Antarsia because he's Balkan and Roma himself, but more self-consciously than Moscow's theater-rooted Kolpakov Trio, old-fashioned preservationists featured at the finale who have long been staples of the gadje folk circuit -- and much more self-consciously than Taraf de Haïdouks, still unheralded in their homeland, or Fanfare Ciocarlia, also fabricated by a gadje record man. I found little correlation between authenticity and quality at this chaotic bazaar.
Purer than Kal, but no more or less gripping, were Taraf Costel Vasilescu at NYU's Skirball Center Sept. 30, led by the Romanian trumpeter who graces superb 30- and 40-year-old Asphalt Tango reissues by Ion Petre Stoican and Romica Puceanu. Standing quietly aside, Vasilescu proved the least demonstrative player in a septet that had amassed some breathtaking avoirdupois in its old age: trumpet, clarinet, guitar and vocals, accordion and vocals, violin, swinging double bass, and the only cymbalom to surface in two weeks. But one trumpet doesn't equal Gypsy brass. Instead, the taraf's sound was defined by bassist Marin Marinescu as Gypsy swing, a strikingly original example of a consciously post-Django groove-cum-subgenre that often seems the sole province of tribute bands.
Three true Gypsy brass bands with nary a Gypsy among them did midweek shows at M1-5, a roomy red Tribeca bar with a tiny 12-by-16 stage: Hungry March Band, Frank London's Klezmer Brass All-Stars, and Zlatne Uste. Metaphorically, all three hail from Brooklyn -- lower-case bohemian Brooklyn, not immigrant Brooklyn. Opening for Gogol Bordello at last year's festival, Hungry March deployed approximately 23 brass and drum players plus seven dancers to enact a dazzling not-for-profit spectacle (how much cab fare do you think each musician takes home?) in which frenetic cheerleading spurs on more or less unison blasts that part to admit jazzish solos. Here, 18 or so plus two dancers still couldn't quite squeeze onto the stage, and though the young Korean Archie Shepp fan in the crocheted cap wailed impressively both times, the downsizing undercut Hungry March's attempt to combine the orgiastic abandon of Gypsy brass with individualism American-style. Zlatne Uste, who since 1983 have played "folk music from the brass music traditions of the Balkans" on old-fashioned rotary-valve flugelhorns they call by the Slavic term "trubas," harbor far homier ambitions. Playing to a core of fans who circle-danced without surcease, they were sweet as people and musicians, and no doubt their tunes sink in -- "Caje Sukarije" was a catchy closer that sounds fine on their "In the Center of the Village." But up against faster, trickier, harsher, crazier Fanfare, Kocani and Markovic CDs, that album seems anodyne, and the performance barely hit second gear.
Moonlighting Klezmatics trumpeter Frank London got his own dance circle, which included a gray-haired woman who appeared to be the mother of one of his musicians. London is a free thinker who in 2002 concocted a theory of brass bands involving Babel and Freemasonry that he renounces on 2005's highly recommended "Carnival Conspiracy," the wildest, wooziest, and most eclectic of the many attempts by Jewish musicians to reclaim their national as well as cultural roots while giving it up to their fellow outcasts. (Balkan Beat Box, runners-up to Gogol Bordello in the Gypsy rock sweepstakes, is led by two Israeli expats.) The All-Stars shift around a lot; a show last January made room for a Brazilian percussion club and a Hasidic women's chorus. This version featured two trumpets, two clarinets, a saxophone, a trombone, a young trap drummer who arrived on time, an older bass drummer who was late, and the lithe tuba of Ron Caswell, who cannily avoided the New Orleans usages favored by Hungry March Band. The 90-minute set was ramshackle -- London loves loose. But the 20-minute opener relaunched the theme whenever it wandered, the Balkan-not-klezmer number roared back after a jazzy sax solo, and Caswell kept things non-swangin'.
London, who studied with jazz luminary Jaki Byard, favors the politically incorrect term "Oriental" to designate the groove he's after -- a groove where threes and twos are juxtaposed, rather than superimposed as in African-inflected musics. And though I reserve the right to renounce the theory next week, my immersion convinced me that the Balkan-Gypsy synthesis is most powerful at its least African -- which also means its least American. Not to deny that Vasilescu's bassist is the making of that taraf. Nor that borrowings from all the crucial African-American horn players are inevitable. Nor that many experts disagree, notably Garth Cartwright, who studs a dashing, fact-packed report on Balkan Gypsy music called "Princes Amongst Men" with epigraphs from African- American musicians and speculates that "Afro-Roma communities in Louisiana" helped create New Orleans jazz. Which is conceivable. But which doesn't mean Caswell belonged on the downbeat he stayed off.
Proof came with the confusing and exciting Oct. 3 clarinet summit at Joe's Pub. I envisioned some surrogate Gypsy brass, a blowing session pitting Bulgarian-born, Bronx-based Yuri Yunakov's rough-hewn tenor sax against two guys I'd never heard of, 30-year-old Turk Husnu Senlendirici and 22-year-old Macedonian Ismail Lumanovski, I instead spent two and a half hours listening to four separate sets featuring bands whose shifting personnel I never got straight; although three of them featured a 16-year-old Macedonian synth whiz named Muhammad, an Arab-looking kid in a long gelled crew cut whose Casio could do the fake flutes of Algerian rai and whose Korg was a piano. Lumanovski and Senlendirici proved spectacular players who had listened hard to Coltrane and Dolphy -- especially Lumanovski, his sound very soprano sax, lots of burr and flutter and overtone where Senlendirici was cleaner and more flutelike. Sometimes the format got samey, structured like, say, the state-and-blow jazz sets of Argentinian Coltrane devotee Gato Barbieri. But the clarinetists had more chops than Barbieri, and Yunakov, who didn't, simply took the music R&B. A gruff, friendly bear with an ex-boxer's gut, he has a robust, muscular sound and packs a lot of power when he improvises. Later, he used saxophone technology to outloud Lumanovski, and later than that he described Senlendirici as "the greatest clarinet player in the world."
The format was a jazz format, but the Gypsy brass format is too, and Gypsy brass is Oriental. So was this. Borrowings from crucial African-American horn players are healthy, but the melodic incline of the material was Eastern European, which by then I could I.D. sometimes as specifically Roma but which also went all the way "Middle Eastern," tunes that evoked muezzins and bellydancers. I should also mention Hasan Isik on kanun, a zither from Turkey that looked like a small cymbalom. And then there were the rhythms. Three different trap drummers sat in, the last and most accomplished an American named Jordan Pearlman who I found too jazzy. My favorite was Yunakov's guy, a squat, middle-aged, dark- skinned powerhouse with two small extra drums toward the top of his kit. ("I don't know the name, Yuri brought him last minute," e- mailed promoter Ilhan, who thinks he's Macedonian.) He didn't swing at all, just banged out the meters with relish and panache, especially when Yunakov announced, "Now I need to play 9/8 -- it's a Gypsy style, a Balkan style." It was he who took over for the final blow-out, when Yunakov honked and Senlenderici got dirty and Lumanovski smiled and held his boyish own amid melodies that evoked jazz not a whit. Just some new kind of party.
Great music rarely changes the world. It just exemplifies what a good world might be like. None of the acts at Hutz's farewell party Sunday grooved me much. But in addition to being a great bandleader, Hutz is a great DJ, and between sets suddenly my little knot of jawing gadje noticed what he was playing. Was that bhangra, all the way from the ancestral Punjab? Followed by a female village folk dance? Followed by a teched-up Django remix? And was that a ska over that baritone truba line? Small social things all around us, and they all sounded wonderful. What a wonderful world it could be.

-- By Robert Christgau
Festival Schedule
---
Sunday, Sept. 24th Joe's Pub at 7.30pm - TICKETS - $15
Cafe Antarsia Ensemble / Greece
Sunday, Sept. 24th Joe's Pub at 9.30 & 11.30pm -TICKETS- $22
KAL / Serbia
Friday, Sept. 29th NYU Skirball Center at 8pm - TICKETS - $32
Costel Vasilesku / Romania
Slavic Soul Party! "Gypsy Funk"/ Brooklyn
Saturday, Sept. 30th NYU Skirball Center at 8pm - TICKET - $32
Honved Dance Company / Hungary
Monday, Oct. 2nd Joe's Pub at 7pm - TICKET - $12
Vlada Tomova "Balkan Tales" / Bulgaria
Tuesday, Oct. 3rd M 1-5 at 10pm -at door--$10
Hungry March Band / New York
Gypsy Dancer Dorit
DJ Joro-Boro
Wednesday, Oct. 4th Joe's Pub at 11.30pm - TICKET - $30
THE CLARINET ALL- STARS Featuring
Husnu Senlendirici / Turkey
Yuri Yunakov / Bulgaria
Ismail Lumanovski / Macedonia
Panogiotis Andreou / Greece
Seido Salifoski / Macedonia
Jordan Pearlman / Philadelphia
Wed, Oct. 4th M 1-5 at 9pm -at door- $20
Frank London's Klezmer Brass Allstars / New York
Balkan Fantasia / New York

Thursday, Oct.5th M 1-5 at 10pm -at door- $15
Zagnut Orkestar "Balkan Music" / New York
Zlatne Uste "Balkan Brass Band"
DJ Joro-Boro
Friday, Oct. 6th Joe's Pub at 11.30 - TICKET - $30 SOLD OUT
THE CLARINET ALL - STARs Featuring
Husnu Senlendirici / Turkey
Yuri Yunakov / Bulgaria
Ismail Lumanovski / Macedonia
Panogiotis Andreou / Greece
Seido Salifoski / Macedonia
Jordan Pearlman / Philadelphia
Saturday, Oct. 7th The ROXY at 8pm - Tickets sold at door $40 21+w/ID
George Reyes and the Gipsies "Sons of the Nicholas Reyes from "Gipsy Kings" family from France
Titi Reyes, Georges Reyes, Anthony Reyes, Michel Batrac
Romashka / Gypsy and folk music from Romania, the Balkans, Russia and beyond" Guest vocal Dorit
Gypsy Dancer Julia Kulakova / Russia

Sunday, Oct. 8th LQ at 9pm - TICKET - $25 $35 - 21+w/ID
Hosted by Eugene Hutz DJ Set (Gogol Bordello)
Kultur Shock "Gypsy Punk" / Seattle
Kolpakov Trio
"Gypsy Music with 7 String Guitar virtouse" / Russia
Acquaragia Drom "Gypsies from Italy"

VENUES.............................................................................................
The Roxy - 515 W 18th Street at 10th Ave.

LQ - 511 Lexington Ave NYC (47th & Lexington)

M 1-5 - 52 Walker St (Bet. Broadway & Church) NYC

Joe's Pub - 425 Lafayette Street, NYC

NYU Skirball Center - 566 La Guardia Pl at Wash. Sq. South NYC

* Festival schedule subject to change