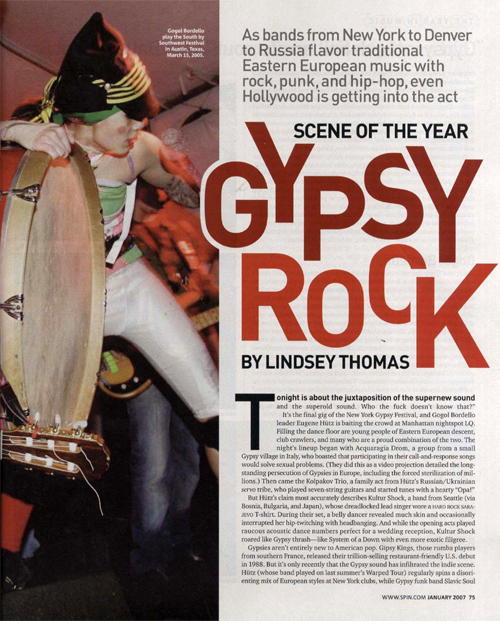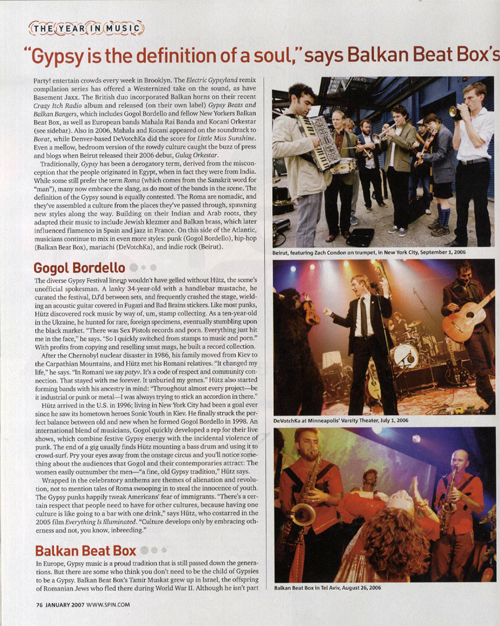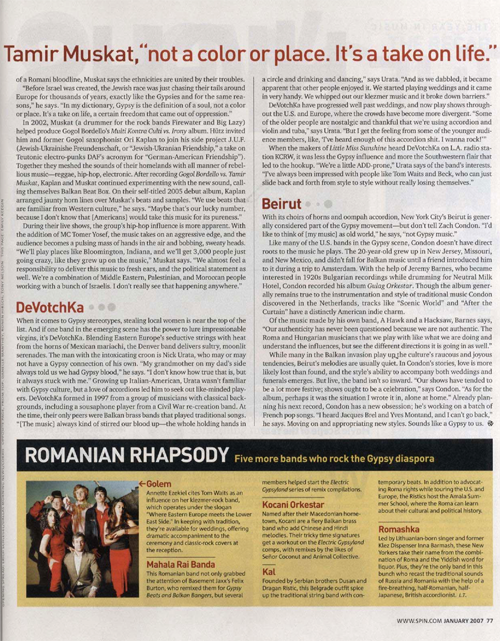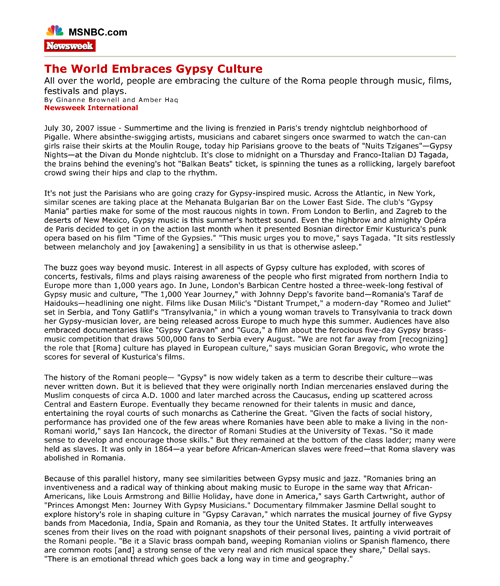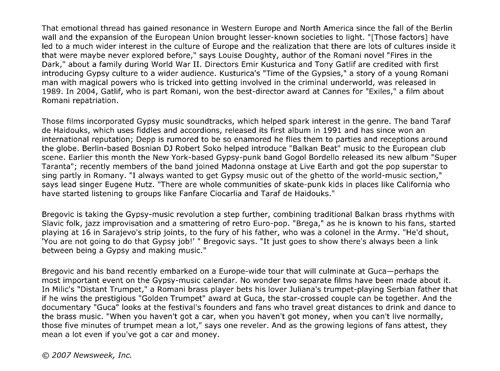 NEW YORK TIMES
Music Review | 'Taraf Costel Vasilescu'
A Gypsy Soul That's Bittersweet but a Heart That Beats to Swing
E-MailPrint Save

By JON PARELES
Published: October 3, 2006
Speedy, jagged tunes and laughter through tears are hallmarks of Romanian Gypsy music. At the Skirball Center on Friday night, Taraf Costel Vasilescu, the seven-man band (taraf) led by Mr. Vasilescu on trumpet, added one more element: swing. Although its style grew out of all the traditions the Roma (Gypsies) picked up along their migrations, to an American ear the music also suggested rakish 1920's jazz.

At the Skirball Center: Costel Vasilescu, top, on trumpet and Ion Stancoiu on accordion, part of a seven-member Gypsy band.
The tunes weren't bluesy, of course. They used the modal scales and odd meters of Eastern Europe and the Balkans. But the music also had a bounding beat and darting, overlapping solos from Marian Stefan on clarinet, Ion Stancoiu on accordion, Vasile Nasturica on violin and Mr. Vasilescu on a trumpet he kept muted, for a cagey, insinuating tone. The syncopated drive came from Georgie Petrachie on guitar, Marin Marinescu on bass and especially Leonard Paun on cimbalom, the hammered dulcimer that pings the rhythmic and harmonic foundation of the music. Although the band plays mostly at weddings, it was easy to imagine the group at some Hot Club of Bucharest.
It was making its United States debut as part of the New York Gypsy Festival presented by the World Music Institute and Mehanata Meyhane, a club on the Lower East Side, through Sunday.
Mr. Vasilescu didn't dominate the group. Except for the ever-supportive bass, each instrument led off a tune or two. Mr. Petrachie and Mr. Stancoiu each stepped forward to sing in hearty, sustained voices: about drinking, dancing, marital squabbling and memories of close-knit Rom neighborhoods. Mr. Stancoiu doubled every zigzag of his vocal melodies on his accordion. And behind the long-lined melodies of the singers, the other musicians played scurrying improvisations that sketched distant harmonic tangents. The musicians shared unison lines at a breakneck pace, zoomed off on their own winding paths and eventually reconvened, making dance music with freedom at every turn.
Slavic Soul Party!, a nine-member brass band from Brooklyn that performs every Tuesday night at the club Barbès in Park Slope, opened the concert with music it had learned in southern Serbia: brawny, oompahing tunes with riffs pumped out by pairs of trombones and trumpets in jovial contention. The drumbeat was knocked out by the band's leader, Matt Moran. Every so often, the horns paused to reveal the virtuosity of Peter Stan, a Serbian-rooted accordionist who could not only race and trill across his keyboard, but also bent notes like a singer. Solos showed the trumpeters' jazz backgrounds, as bebop triplets nicely rode the tricky Serbian meters.
Slavic Soul Party! doesn't strain for authenticity, but it plays its chosen music with skill and spirit.
The New York Gypsy Festival continues through Sunday at various Manhattan sites; nygypsyfest.com.
GLOBAL RHYTHM
World News


The New York Gypsy Festival Will Open September 29th
Published August 24, 2006


The New York Gypsy Festival will open on Friday, September 29th with the fiery Balkan brass of Slavic Soul Party!, followed by the joyous and intoxicating music of trumpet legend Costel Vasilescu, one of Bucharest's most important Roma (Gypsy) musicians of the older generation. Costel will lead his taraf (band) of lautari (Roma) from Romania on double bass, accordion, cymbalom, violin, guitar, clarinet and vocals in a riveting program of wedding songs, dance melodies and ballads which reveals the soul of the Roma people. Costel, who recently gained international recognition for his playing on the Sounds From a Bygone Age reissue recordings (Asphalt Tango/Harmonia Mundi), will be making his US debut.
The festival will continue on September 30th with the HonvŽd Dance Company, the Hungarian folk troupe that has been captivating audiences throughout the world since its formation in 1982. The Budapest-based company, regarded as an institution in Hungary, has created a new school with its dramatic works for dance theatre and will be making its long awaited US debut. Its program of Gypsy traditions from the Carpathian Basin will feature 14 dancers under the direction of the award-winning Ferenc Nov‡k with accompaniment by the Hegedšs Folk Band and the Lindri Trio. The captivating repertoire includes Gypsy dances of …rk, the Recruiting Dance from S‡rpatak, the Stick Dance, the Whirling Dance from Szatm‡r, dances from Sz‡szcs‡v‡s, Gypsy music from Kalotaszeg, the Fox Dance, the Spoon Dance, and the Gypsy Chardas from Szatm‡r.
For more information on other events taking place at the 2nd New York Gypsy Festival from September 29th through October 8th, visit nygypsyfest.com
These two programs are part of the European Dream Festival, a celebration of leading voices from an expanding Europe.
The Artists
Costel Vasilescu was born in the Moldovan town of Ramnicu Valcea in 1940. When he was a young child, his father took him to weddings where he often saw Romania's greatest trumpeter, Hopa Mitica (who became his idol). Like Mitica, Costel furnished his trumpet with a metal or wooden mute depending on the occasion, thus giving this instrument a velvety sound that was compatible with southern Romanian suburban music. Using his trumpet he refined the best Electrecord recordings with muzica lautareasca, and often went into the studio with the renowned Gabi Lunca, Romica Puceanu and the Gore Brothers. He performed primarily at weddings until the late '80s, when electrically amplified bands became popular and replaced traditional tarafs. In 2001, he released two songs, "Jocul Boldenilor" and "Hora Lautareasca," on Fanfare Ciocarlia's Iag Bari album. In recent years Asphalt Tango released the Sounds From A Bygone Age recordings featuring Ion Petra Stoican and Romica Puceanu - CDs which have garnered much international attention. Costel Vasilescu's repertoire includes not only the dizzying fast dance melodies, but the slow and solemn melodies from Oltenia, which have not been played before on the trumpet. His taraf features Leonard Paun (cymbalon), Georgie Petrachie (vocal, guitar), Vasile Nasturica (violin), Marin Marinescu (double bass), Ion Stancoiu (vocal, accordion), and Marian Stefan (clarinet).
Slavic Soul Party! is comprised of nine musicians who have forged a virtuosic new brass band in New York - melding Gypsy, East European, Mexican and Asian immigrant backgrounds with American jazz and soul- and "developed a reputation for delivering a great time" (NY Times). Global Rhythm called its music "some of the most danceable Balkan-flavored pop this side of the Adriatic." One of the hardest working bands in New York, SSP! plays nearly 100 times a year in the US, Europe, and beyond, from Lincoln Center to East European steelworker bars in the Midwest, and skatepunk tours in New Jersey to pasha's palaces in Istanbul. The band travels regularly to the Balkans, sharing its original mix with festival audiences and bartering trade secrets inside the brotherhood of brass. The band's latest CD, Bigger, is on the Barbes Records label.
The HonvŽd Dance Company, renowned for its dynamism, virtuosity, and authentic folk costumes, was born in Bart—k's and Kod‡ly's spirit. As BŽla Bart—k and Zolt‡n Kod‡ly brought folk music to the concert stage, director-choreographer Ferenc Nov‡k, founder of the group, brought elements of folk dance to the stage. He engaged nearly the entire graduating class of the Academy for Dance for his company, making dance history with this step, and founded the Hegedšs Folk Band to provide musical accompaniment for the dances. Since the early '90s. HonvŽd has travelled throughout the world as representatives of Hungarian culture, performing at the world expo in Sevilla and Lisbon and at numerous festivals from Montpellier and Mexico City to Thessaloniki and Johannesburg. During the last five years the troupe performed in 19 countries including Sweden, China, Israel and Australia. The company was also invited by Pina Bausch to perform at the international celebration of her company's anniversary in Wuppertal.
The Hegedšs Folk Band is dedicated to the research and fostering of ancient folk music of the Carpathian Basin. The name "hegedšs" (which means "fiddler" in Hungarian) originates from the Middle Ages and refers to singing storytellers. The members of Hegedšs perform the material they gather in an authentic way on original folk instruments. The Lindri Trio is noted for its ininimitable rhythms and its performance of songs and ballads that impart a profound human dimension to centuries-old stories.
These programs are made possible in part with public support from the New York State Council on the Arts, a State agency, and the New York City Department of Cultural Affairs.
From September 20 through October 31, 2006, the European Dream Festival will present vibrant, innovative, and cutting-edge productions in dance, theater, music, film, and literature from today's Europe of disappearing borders and expanding cultural diversity. Taking place at 20 New York City venues, the Festival is an unprecedented concerted effort by a great number of European countries, including new and aspiring members of the European Union. The Festival, slated to become an annual or biennial event, was initiated by the Goethe-Institut, the French Institute Alliance Franaise, the Italian Cultural Institute, and the Czech Center, all in New York, and is supported by the European Union. www.europeandream.us


On Sunday October 8th, The New York City Gypsy Festival held its closing party at LQ in the lobby of the Roger Smith Hotel. Throughout the week, the 2nd Annual Gypsy Festival hosted bands from across Southern Europe, Eastern Europe, and the US. Sunday night was the highlight of the week, with an impressive turnout of young, hip, beautiful people in gypsy-esque fashion. The feeling was global village; a James Bond scene in a Transylvanian nightclub with fabulous people, music, and dance.
DJ Hutz of Gogol Bordello spun Balkan folk mash-ups and popular punk classics blended with Brazilian songs, North African songs, and other exotic audio. The first band was Acquaragia Drom from Italy. They started the night with the right gypsy energy and got people dancing right away.
NEW YORK COOL

Sasha Kolpakov Trio from Moscow
Acquaragia Drom was followed by the Sasha Kolpakov Trio from Moscow. Apparently, Sasha is a big deal in the Russia. DJ Hutz introduced his music as "Servo-Romana" (a Russian-Ukrainian Servo tribe of Roma). It seemed there wasn't a single member of the audience who could understand that very specific language. A woman who looked like a model stood next to me. She had tears streaming down her face throughout Sasha's first song. I asked her if he was singing in Ukrainian. She said she didn't know what language it was. Like her, I couldn't understand a syllable, but I totally got the gist from Sasha's emotive facial expressions. His mustached, bespectacled face lit up with certain phrases and managed to convey a great deal of feeling to the audience, despite the language barrier. He played guitar and sang with his nephew – the two were dressed in traditional embroidered vests. His daughter sang with him as well and belly-danced.
Following the Kolpakov Trio's set, I ran into DJ Joro-boro. He was dancing, surrounded by moshing youth who were powered by DJ Hutz's choices of The Clash and Madness. Hutz was getting the crowd ready for Seattle-based Kultur Shock's "gypsy punk."

The Crowd
LQ is a beautiful venue with a vaulted ceiling that was the perfect backdrop for the artistic, eccentric projections repeated throughout the show. There was a scene with people on a beach followed by another of a lone figure walking down a country road in real time. There was a black and white scene of a rural gypsy party followed by a view of hundreds of flickering candles. It was now close to 1AM on a Sunday in midtown and I had planned to leave by then. But the crowd's excitement was contagious, so Melinda and I decided to stay for the last band. We were in the middle of Downtown, Earth and leaving didn't seem like an option.

Kultur Shock
Kultur Shock hit the stage in a fury of energy – they were a big group. The lead singer looked like a contestant from the cage in Mad Max Beyond the Thunderdome. He had intimidating dread locks rooted in the middle of a balding skull. Part pirate, part gypsy punk, Kultur Shock brought the noise – in a good way. There was bass, drums, two guitars, a Japanese belly dancer, and a violinist. Even the belly dancer was hard core – her lean, muscular body writhed with the ripping bass lines and smashing cymbals. The instrumentalists backed up the lead singer with surprisingly good vocal harmonies, and the violinist tore through string accompaniment that kept it real - real gypsy. He appeared to be about twenty-years-old but since he was sporting a huge, bushy beard it took a moment to realize the twenty-year-age difference amongst the band members. I'm not a big hard-core fan, but I loved Kultur Shock. There power was intense – they put on a great live show.
The organizers of the NYC Gypsy Festival have found a year-round home for Romani events. To find out about upcoming shows visit: www.maiameyhane.com. Or check out Maia Meyhane Restaurant at 98 Ave B in Alphabet City.
VILLAGE VOICE / HüTZ TO THE RESCUE

Fly Life
Hütz to the Rescue
Gogol Bordello's mastermind single-handedly improves your boring life

by Tricia Romano?June 13th, 2006 12:24 PM

?Curing your various ills via super Hützness?photo: Tricia Romano
See also:?Get Sweaty With Eugene Hutz?Fly Life photo gallery by Tricia Romano
For those who complain about the lame state of New York nightlife, I have a solution: Eugene Hütz. For those who bemoan boring bands with no charisma or energy, Eugene Hütz—and his hardworking group Gogol Bordello—can help. Those who lament that their life is unexciting and worthless: again, Eugene Hütz. In fact, I would prescribe Eugene Hütz for just about any malady you may be experiencing.
This might be why this is the Third Annual Eugene Hütz Fly Life interview. I'm making it an institution. Because there is no one else in the downtown scene remotely as interesting, entertaining, multi-talented, politically motivated, and captivating. Though a New York resident, he's only here sporadically, and whenever I see him my life is infused with super Hützness. Eugene Hütz gives me a reason to live. Especially when he plays my favorite long-forgotten genre, jungle, during one of his insane DJ sets—as he did for the opening of the new Menahata (a/k/a the Bulgarian Bar) on Ludlow last Thursday, spinning the classic mid-'90s track "Original Nuttah."
Here's how normal people go on vacation: Book a flight somewhere, lie around on the beach for a few days, maybe see some sights, get drunk once or twice, get a sunburn, come back, resume dull life. Here's how Hütz takes a vacation: Flies to Russia, hits 20 countries in a 32-day period in a fully absorbing "transcontinental DJ hustle." Along the way, visits Gypsy camps in Eastern Europe, discovering Gypsy musicians for September's New York Gypsy Festival—the "real wild ones," as he calls them. Squeezes in a performance on Barcelona television with backing from authentic flamenco musicians. DJs in Germany and everywhere else. Collaborates with DJ Shantel and Rootman, a U.K. dub producer. Winds up in Morocco, leaving with plans to record with Arabic musicians. Invents a new mash-up genre, Raï 'n' Ragatta.
"People always told me I'm fucking crazy, but this month I actually started believing them," says Hütz over tea at Mogador on St. Marks. ("To keep the Moroccan vibe going," he explains.)
He was back in New York for a week before Gogol Bordello's summer-long European tour, which will also include the Reading Festival in August. The night before the show at Irving Plaza, he spun one of his famous mash-up sets for the opening of the Bulgarian Bar, which moved over from its Canal Street location. Hütz sets are sweaty, messy, drunken affairs. Chin-scratching techno dorks and laid-back deep house lovers, please step aside. Technique flies out the window; so do staid musical sensibilities. When's the last time you heard dancehall, bhangra, traditional Gypsy songs, and Joy Division in the same set?
Here's how normal people DJ: Pick song, push play, look bored, pick another song, push play, maybe nod head, look bored. Repeat. Here's how Hütz DJs: Picks song, raises fist in the air, bangs head, smashes something. Picks song, rips off shirt, sweats profusely, waves hands in the air and conducts sing-along. Forgets to push play for next song. Whoops. Picks song, pushes play, everyone cheers. Grabs mic, stands on DJ booth, conducts more sing-alongs.
Is it any wonder that the place was dripping with sweat? Can you believe him when he says, "I'm not a real DJ"? I can't.
When I first met Hütz a few years ago, he was a charismatic guy in a popular local band, playing a form of music—Gypsy- infused punk rock—that hadn't yet picked up steam. Now, it's a different story. The New York Gypsy Festival is just one of many signs that Hütz was onto something—people like Basement Jaxx are including Gogol's song "Start Wearing Purple" on their compilations.
"When I first moved to New York, people threw me out of the bars for playing it," says Hütz, who credits the change of heart to marketing. "It's huge—I see compilations coming out left and right. I know this track—I've been spinning them for 10 years. I look at the label—it's some bullshit label that just got with the program, just heard about it two weeks ago. It's all right. Let 'em do it." While others are rediscovering what he played 10 years ago, Hütz is busy unearthing the next shit in Gypsy camps. "There is no routine of any kind," he says. "I get in a car with my Ukrainian guide and basically drive to certain locations just to meet these people because they live in such isolation. A lot of the wild kids, they don't even know they are gypsies. They don't know what the fuck happened to them and why they are there. But what they do artistically is uncomparable to anything."
When he's not tearing up stages or inventing new music genres, Hütz is doing just about everything else. He was approached by a famous editor of a recently deceased notorious writer about doing his own book. He's in talks with a TV producer to host a video show "with all the fucking cool bands—the music that I'm spinning, Asian Dub Foundation, Gypsy music, no fucking MTV crap," he says. And after his acting debut in last year's Everything Is Illuminated—directed by Liev Schreiber and co-starring Elijah Wood—he's been showered with film scripts. "What I thought was gonna happen, happened," he says. "I got scripts to play bad Eastern European guys. Now I get offered to play Satan, so straight to the top." He did not twirl his famous handlebar mustache as he said this, but he should have.
And the band, always the band. Gogol Bordello put on a benefit with Dub Trio, Kultur Shock, and Outernational (whose CD he produced) Friday at Irving Plaza for Romani Jag (romanijag.uz.ua). "They monitor police brutality and take cops to court. They defend people's rights. Racism is still high. In Andalusia in Spain, where the flamenco was coming from originally, at the only flamenco bar there is, Gypsies are not allowed in," he says. "They created the flamenco and they are not allowed in there. There's still racism and discrimination everywhere you go."
Here's my dirty little secret: For all the DJ sets I've seen Hütz spin, I'd never seen his band. I'd heard Gogol Bordello's music, but I always knew that the key to getting the band was seeing them onstage. I was right.
Here's how a normal band plays a show: Usually it's a four- or five-piece: guitars, drums, bass, singer. They stand in place, look forlornly at their shoes, sing earnest songs about their woes to an audience that looks bored, sad, or both. They play an encore, and if they're lucky, a girl throws a bra onstage. Usually, they are not lucky.
Here's a Gogol Bordello show: The place is packed to the rafters with kids of all ages—girls with mohawks, goth chicks with platinum-blond hair and black eyeliner, guys drunk with anticipation and beer. They are already pushing and shoving and crushed against the barricade separating the crowd from the band. This tells you its gonna be that kind of show. The band starts, and there are so many people onstage dressed in colorful Gypsy-esque outfits, you can't keep track. There's an older dude, Sergey Rjabtzev, wearing a Slayer shirt and playing the violin so hard that he breaks a string, and almost pokes your eye out with his stick (not that stick—his bow). There is a moshpit that you are scared to even be near, with brave girls and boys floating on top. During the encore, Pamela Jintana Racine, one of the singer-drummers, passes her drum into the crowd, which dutifully holds it aloft while she climbs on top of it and bangs it. Then Hütz joins her and she jumps back onstage.
There's a woman hovering on top of the crowd, being passed along limb by limb. She's on her back, her legs splayed wide. She lands on the drum. She fights to join Hütz, and wiggles her way underneath him. She wraps her legs around him, arches her neck, and thrusts her fists out, victorious. She's been cured.