Rhythm of Rajasthan (India)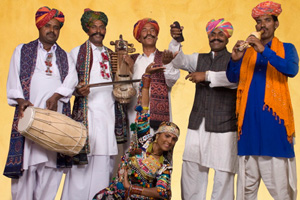 Rhythm of Rajasthan: The vast unending expanse of burning hot sand that makes up the Thar Desert of Rajasthan hosts one of the most vibrant and evocative music cultures of the world. The heady, hypnotic combination of rhythm and melodies sung and played by the Langas and Manganiars are part of the eternal appeal of this mysterious and wondrous land. The soulful, full-throated voices of these two music communities have filled the cool air of the desert night for centuries in a tradition that reflects all aspects of Rajasthani life. Songs for every occasion, mood and moment; stories of legendary battles, heroes and lovers engender a spirit of identity, expressed through music that provides relief from the inhospitable land of heat and dust storms. Be it the mesmerizing melody of the Sarangi, the foot tapping beats of the Khartal, the vibrating drone of the Morchang, the echoing beat of the Dholak, or the melodious and spell-binding Pungi, when these ancient instruments combine with the soulful voices of the singers and exotic Kalbelia dancers a magical ambience is created. One can't help but move to the rhythm or fall into a trance like memory of far away places unvisited but made real through this enchanting music.
http://www.rajfolkseries.com
Stephane Wrembel (France)
He's been called "a revelation" by Rolling Stone. Woody Allen recruited him to score the theme for last year's smash film Midnight in Paris, and he performed his irresistibly catchy original song "Bistro Fada" live during the 2012 Academy Awards. To say that French-born guitarist/composer Stephane Wrembel—who learned his craft among the Gypsies at campsites in the French countryside—has already had a remarkable career would be an understatement. But this virtuoso, although he built his reputation as a stylist in the mode of the iconic French Sinti guitarist Django Reinhardt, has truly just begun to make his mark as one of the most original guitar voices in contemporary music.

http://www.stephanewrembel.com
Arifa (The Netherlands)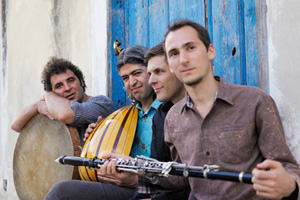 Ancient musical traditions from the Middle East and Balkans are blended with jazz and contemporary improvised music through a Western frame of mind. Anatolian Alchemy is the second album by Dutch based Arifa, since the founding three years ago have played in 5 continents. Arifa's debut album 'Beyond Babylon' received five star reviews and was highly acclaimed internationally. Arifa's secret is the creative chemistry between its four members. Coming from Romania, Turkey, the Netherlands and Germany their music is just as diverse as their origins, moving from traditional Turkish and Balkan sounds to jazz and classical music.

http://www.arifamusic.com
NY Gypsy All-Stars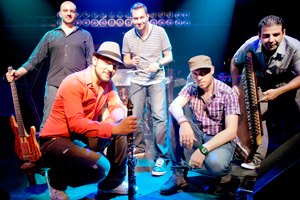 "A showboat of a performer, Lumanovski is an adventurous, modern-minded frontman who leads his band [NY Gypsy All-Stars] through a varied terrain of Balkan, Turkish and Romany selections, spiked with jazz and Western styles." - Cristina Black, Time Out New York

"Lumanovski and Senlendirici proved spectacular players who had listened hard to Coltrane and Dolphy -- especially Lumanovski, his sound very soprano sax, lots of burr and flutter and overtone." - Robert Christgau, Salon.com

"They have taken the ground-breaking Turkish fusion band Laço Tayfa's music as their jumping off point and continued in that spirit of exploration… eclectic and full of inquisitiveness." - Michal Shapiro, The Huffington Post

http://www.nygypsyallstars.com
TriBeCaStan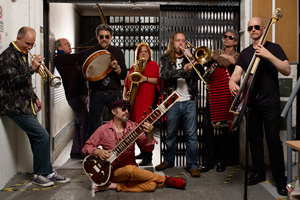 Radically multicultural and poly-stylistic to the marrow, TriBeCaStan are one of contemporary music's most musically diverse bands. The Washington Post hails them as "an international jazz and folk festival unto themselves, fusing Balkan, Middle Eastern, Indian, Latin American, and African musical elements to bold and dazzling effect." While nailing down the multifarious culture of TriBeCaStan might be challenging (especially since the band purposefully aims to tear down the boundaries between world, folk, and jazz), the final package is the result of a virtuosic and exuberant collaboration between some of New York's finest jazz and world musicians—many of whom have played and collaborated with legendary innovators, such as Ornette Coleman, Patti Smith, John Corigliano, James Brown, and Taj Mahal. "Our music," says Jeff Greene, "is ultimately about the cross-fertilization of musical idioms. Between our travels and life in New York City, we get to witness, first-hand, all the wonderful ways in which the world's cultures combine to create new musical forms and expressions. To us, there couldn't be anything more inspiring."

http://tribecastan.tv
Younglood Brass Band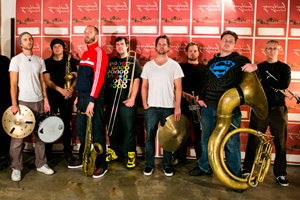 Youngblood Brass Band are focused on creating consistently progressive, groundbreaking acoustic music, and employing whatever sonic means necessary to do so. The nine-member ensemble hail from all over America (Madison, New Orleans, New York, Nashville, Minneapolis, Chicago) and have been unleashing their crash course in hip-hop/brass band/improv/punk on stages worldwide since 2000. What other band can claim the honour of having their music spun by DJs like ?uestlove (of The Roots), working with hip hop luminaries like Talib Kweli, having their original compositions performed by student marching bands and jazz ensembles around the globe, and still not be out of place on an allpunk bill? What other band brings together the ostensibly disparate worlds of the trombone geek and the backpacking b-boy? Youngblood have headlined countless tours worldwide, selling out dates in over 20 countries. Incendiary live shows have secured the band's status as an incredible group to witness, whether in an intimate club setting or in front of thousands on a festival stage.

http://www.youngbloodbrassband.com
Frank London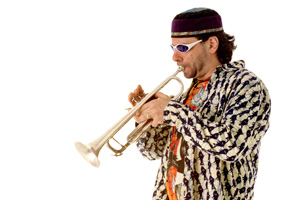 Frank London is a New York City-based trumpeter, bandleader, and composer active in klezmer and world music. He also plays various other wind instruments and keyboards, and occasionally sings backup vocals. With The Klezmatics, he won a Grammy award in Contemporary World Music for "Wonder Wheel. London is best known for his role as trumpeter in the New York City-based klezmer band The Klezmatics. He is also a member of Hasidic New Wave and leads Frank London's Klezmer Brass Allstars.

http://www.franklondon.com
Taluna (Italy)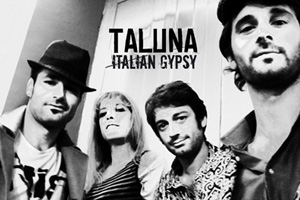 There is a thread stretching from Dubrovnik to Vukovar, which passes through Belgrade and descends to lick Tirana and Athens. A thread that runs under the sea and touches Brindisi and Sevilla, which crosses the ocean up to caress the coasts of Argentina and Chile A thread moves from the strings of guitars and violins, bouncing off the skins of the drums and that bends in the keys of the accordion. Gaia Mobilij is center stage with his accordion, the old "lira Calabrese" and her warm and evocative voice, the violin of Marco Ghezzo exudes elegant notes that make the audience dream and dance, Luca Russo with his classical guitar accompanies every different style, launching riffs worthy of the best jazz soloist, finally the tambourine of eclectic Giuseppe Leone emanates the vibrant pulse of the group, with continuous reminder of the taranta of Salento. The real strength of the group are the autographs pieces, all songs from their album "Exper" are written by them individually and arranged together, in a collection which brings together all genres and styles referring to Taluna: ethnic music (Rom, Balkan ), popular music (Occitan), the "pizzica" of Salento, Latin and Jazz."(R.Natalini).

http://www.taluna.it

Escarioka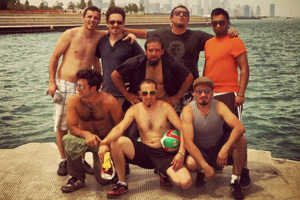 Escarioka is a multicultural collective started in 2002 in Elizabeth, NJ. The band has crafted an explosive, pan-Latin, psychotropical sound drawing on cumbia, ska, punk, and salsa influences, through lengthy trial and terror on dance floors across NYC. Featuring a relentless rhythm section, punching horns, and powerful, socially conscious lyrics, Escarioka promises a night of joyful mayhem, raucous energy, and mucho sabor that keeps the people moving from start to finish.

https://www.facebook.com/ESCARIOKA


Sazet Band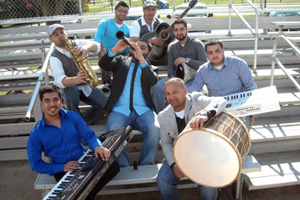 Sazet Band, an eight-piece Romani wedding band from New York City. Sal Mamudoski- clarinet; Romeo Kurtali- sax/clarinet; Caner Tokgozol- solo keybords; Remzi Demo- bass keyboards; Kurte Kurtali- drums; Amdi Seyfedinov- doumbec/ percussions; Beni Kurtis- vocals; Sazet band was formed in 2011 under the leadership of Sal Mamudoski & Romeo Kurtali.

Our eight-piece wedding band is composed of Roma from Macedonia and Turkey. The band performs traditional folk and Romani music from the Balkans (Macedonia, Bulgaria, Serbia, Albania, Greece and Turkey), but has influences from classical, jazz, funk, techno, and fusion styles of western music. We wanted to do something very different from the music that comes from the Balkans in Europe, so we needed the right musicians for this project, ones who would know the traditional music very well and how to form it with western style of music. We call it "New York City-style" of Roma music. Basically east meets west. The music we perform has complex rhythms, great melodies, dense ornamentations and amazing improvisations. Sazet band has performed at a number of weddings & concerts, and was honored to perform at the 2012 Golden Festival in New York City.

Pierre "Kamlo" Barre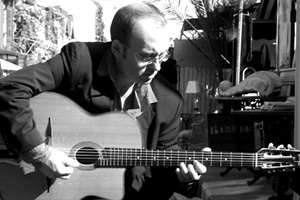 Born in Nantes, Kamlo left France at the age of six with her family for a long journey which lead to Beirut, Tunisia, Casablanca and Madrid. Jazz records he heard followed the various moves. Back in France, at the age of 19, he developed a passion for jazz guitar and the music of Django Reinhardt. He trained with guitarist Jean-Philippe Watremez with whom he recorded his first album as rhythm guitarist. In 1997 he met guitarist Jean-François Ruiz from the group Latcho Drom. Together they created the Kamlo Trio.

Alfonso Ponticelli
Alfonso Ponticelli, guitarist, multi-instrumentalist, and leader of Chicago's Swing Gitan, was inspired by the passionate music of Italy during childhood vacations. At 18, Alfonso began his musical career playing in a variety of bands including R & B, Chicago blues, rock, folk, big bands, and bebop jazz combos throughout the country. In 1994, Alfonso began studying flamenco guitar. In 2004, Alfonso Ponticelli & Swing Gitan was invited to play at the legendary Festival Django Reinhardt in Samois-sur-Seine, France. Alfonso and the band have also been featured at DjangoFest Northwest, DjangoFest Crested Butte, Django a Go Go in New York, and the Midwest Gypsy Swing Fest in Madison, Wisconsin. Alfonso has been sharing the gypsy spirit in Chicago for more than a decade, including performing a weekly gig at the famous Green Mill jazz club; producing the annual Chicago Gypsy Jazz Festival. Alfonso is fortunate to have played with many jazz greats including Les Paul, Johnny Frigo, Howard Levy, Larry Novak, Don Stille, Rusty Jones, Pat Mallinger, John Bany, and top Spanish flamenco guitarist Pansequito (hijo) among others. .
Brasslands - Directed by the Meerkat Media Collective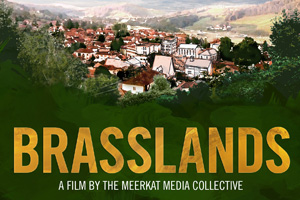 Every year a tiny Serbian village explodes with riotous celebration and brass cacophony, as more than half a million music fans descend upon Guča, for the world's largest trumpet competition. Brasslands documents Guča's 50th anniversary festival, where amidst a cast of defending Serbian champions and struggling Roma Gypsies, an unlikely brass band from New York City, Zlatne Uste, voyages to represent the United States only a decade after NATO bombs rocked Belgrade. They will be the first Americans ever to compete at Guča. As the festival commences, Brasslands bears witness to the deeper resonance of the music, as the town of Guča begins to swell with frenetic energy. While ethnic and political divisions continue to simmer below the surface of this war-torn country, everyone here has gathered to celebrate their music, to dance, and to enjoy life. With deafening drum batteries, lightning trumpet solos, and euphoric brass chorales, Brasslands attests to the fact that even amidst great turbulence and unrest, there remains a universal human desire for identity, joy, and belonging—and that, if only for a few days, it will make itself heard..

http://www.brasslands.com