Fanfare Ciocarlia (Romania)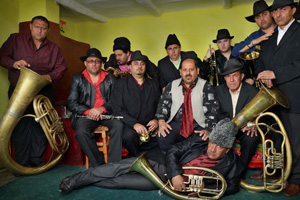 Everyone who has heard Fanfare Ciocarlia agrees on one thing: No brass band plays as fast. Their breakneck speed, technical chops, ripping rhythms and sweet'n sour horns are different from any other brass band on earth. Their sound has been sampled and covered, championed and emulated by countless DJs, bands and Gypsy orchestras. Their radical reinterpretations of popular Western standards like the "James Bond Theme" and Duke Ellington's "Caravan" show how this Romanian orchestra can effortlessly put a Gypsy spin on any music they get their horns on.

Fanfare Ciocarlia has won the prestigious BBC-3 Planet Award in the European category. Their rendition of "Born To Be Wild" was featured in the 2006 hit movie "Borat" and their song was even used in IKEA UK's latest TV ad campaign. Additionally, Fanfare Ciocarlia have twice developed brilliant musical theatre: The Gypsy Queens & Kings and the Balkan Brass Battle (which saw them battle it out on stage with Boban Markovic Orkestar). Fanfare Ciocarlia have released eight albums, several of which have topped the European World Music charts, and they have played over 1,200 concerts in fifteen years. To put it simply: nobody does it better, harder, faster, funkier than Fanfare Ciocarlia!
http://www.fanfare-ciocarlia.com
Elena Andujar (Spain)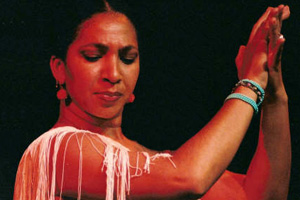 Elena Andujar was born in Seville, where she was brought up in an atmosphere in which flamenco was a way of life. She first studied and performed as a flamenco dancer, performing with Antonio Canales on his Japanese tour in 1990 with Ketama. But she soon became known as a flamenco singer after Joaquín Cortés asked her to sing in his shows Cibayi (1993) and Pasión Gitana (1994).

She has performed with her group in flamenco clubs like La Trocha (Seville), Café de Chinitas (Madrid), Casa Patas (Madrid), Tablao de Carmen (Barcelona), Zambra (Alicante) and Suristán (Madrid). She has starred with several groups in different cities in the United States and Europe, occasionally combining singing with dancing. She has also appeared in films like Taylor Hackford´s The Devil´s Advocate, dancing with Al Pacino, or as a singer in Mike Figgs´documentary Flamenco Women (VPRO, Holland and Channel 4, United Kingdom). Her face is very familiar to fans of photography for the portrait of Elena, which the famous photographer Richard Avedon included in his Autobiography. In Ghana, she participated in the Music on the Line concert, a project which culminated in London with the participation of such African musicians as Sibongile Khumalo, Amadou & Marian, Rex Omar and Josephine Oniyama, as well as British musicians, including Steve Lodder. In London, she performed with her group at the Barbican Centre in July 2001.

Elena has continued to strengthen her roots, her technique and her strength as a singer. Her live concerts include traditional songs, demonstrating her profound knowledge of the flamenco repertory, an understanding and gracefulness, and the use of new rhythms. Her singing, her real spontaneity, has been enjoyed in many flamenco fiestas, eventually leading, through her many collaborations, to her recognition by the general public. She participated as a singer in the Pata Negra album El Blues de la Frontera, and since then has worked with such artists as Romero San Juan, Arrajatabla, Diego Carrasco, Dulce Venganza, Cantores de Híspalis, Niña Pastori, Familia Fernández.

http://.facebook.com
Hazmat Modine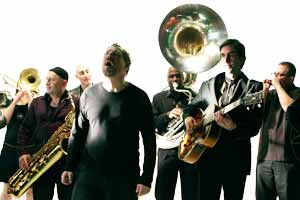 Hazmat Modine plays the kind of Blues one might have found in a whorehouse in New Orleans had the city been built on the Black Sea somewhere alongside Macao and inhabited by Gypsies. Drawing from the rich soil of American music of the 20's and 30's through to the 50's and early 60's, blending elements of early Blues, Hokum Jugband, Swing, Klezmer, NO R&B, and Jamaican Rocksteady, the band is driven by a pair of dueling Harmonicas, backed by Tuba, Drums, Guitars, and Trumpet with the addition of special guests playing exotic instruments such as the Claviola, the Cymbalum or the Chinese mouth-organ, the Bass Sax and the Normaphone. Frontman Wade Schuman, has the appropriately throaty voice of someone who has both hopped freight trains and collaborated with the Throat Singers of Tuva. In addition to his own material the band cover tunes by Slim Gaillard, Jimmy Rogers, Jaybird Coleman, and Irving Berlin.

http://www.hazmatmodine.com/
NY Gypsy All-Stars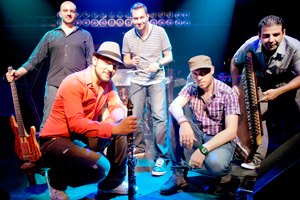 "A showboat of a performer, Lumanovski is an adventurous, modern-minded frontman who leads his band through a varied terrain of Balkan, Turkish and Romany selections, spiked with jazz and Western styles." - Cristina Black, Time Out New York

"Lumanovski and Senlendirici proved spectacular players who had listened hard to Coltrane and Dolphy -- especially Lumanovski, his sound very soprano sax, lots of burr and flutter and overtone." - Robert Christgau, Salon.com

"They have taken the ground-breaking Turkish fusion band Laço Tayfa's music as their jumping off point and continued in that spirit of exploration… eclectic and full of inquisitiveness." - Michal Shapiro, The Huffington Post

http://nygypsyfest.com
Marco Calliari (Canada/Italy)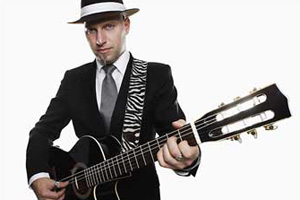 Marco Calliari is a singer-songwriter based in Quebec, originally from Italy. Since 2003, he pursued a solo career that has so far released three albums: Che la vita, Mia dolce vita, and Al faro est. With his first album, Che la vita, Calliari found a way to reconnect with his parents' country of origin. The album, based on Italian folklore and jazz influences, won Calliari the Galaxy award in the summer of 2004, given by the CBC at a music festival in Abitibi-Témiscamingue and was nominated at the Gala MIMI in 2005. An active member of the Italian community in Montreal, he has also participated in first two editions of Ritalfest, a festival honoring Italian music in Quebec.

http://www.marcocalliari.com
Sway Machinery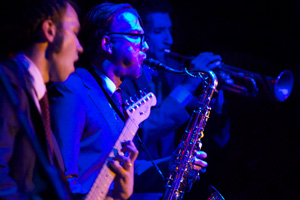 The Sway Machinery is an all-star collective of innovative visionaries led by guitarist Jeremiah Lockwood of Balkan Beat Box. The Sway Machinery's line-up includes Brian Chase of the Yeah Yeah Yeahs on drums, touring member of Arcade Fire Colin Stetson on bass saxophone, and Stuart Bogie and Jordan McLean of the Antibalas horn section on tenor saxophone and trumpet respectively. The band's combination of rhythmic power and potent folklore takes no prisoners. On stage the energy of submerged worlds is torn out into the light of day. And indeed, the historical tradition of Cantorial music, which is the focus of the band's work, is very much a lost world. The music of The Sway Machinery invites the listener to become like children wandering in the forest, discovering something mythic and wonderful. Lockwood's deeply personal relationship to blues and the soulful and ancient heritage of Synagogue music helped him to forge a unique musical language of his own. The release of Sway Machinery's debut album "Hidden Melodies Revealed" in 2009 has been followed by performances internationally, notably at the 2009 Krakow Jewish Culture Festival. Recently, a track from the record was featured on the popular television series Weeds.

http://www.swaymachinery.com/
Zlatne Uste Brass Band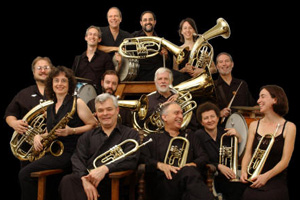 From Kolos to Kusturica, experience the rich sounds of driving Balkan brass. Zlatne Uste (Golden Lips) is an internationally known group of American-born musicians playing traditional music of the Balkans, primarily representing Serbian, Macedonian, Bulgarian and Romany (Gypsy) traditions. Four-time invited guest at the Dragachevo Brass Festival in Gucha, Serbia, the 12-piece band is among the foremost presenters of traditional Balkan dance music in the United States. Each year Zlatne Uste hosts and produces the Golden Festival, New York's biggest and best Balkan music festival with an astounding 40 or more bands and something for everyone

http://www.zlatneuste.org/
Ariadna Castellanos (Spain)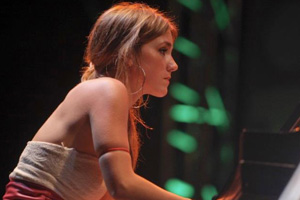 Spanish pianist and composer, Ariadna Castellanos is currently one of the top rising and most promising Flamenco artists. She merges Flamenco & Jazz in order to create a new language, a unique identity. Ariadna blends the new harmonies and modern traditions with the wild passionate essence of Flamenco. Based on her technique, acquired with classical piano training, and her natural sense of improvisation, Ariadna's performances achieve the highest artistic quality. Ariadna Castellanos has appeared all over the world, bringing her innovative style to such venues as the Palau de les Arts de Valencia, Monterrey Jazz Festival, Kennedy Center for Performing Arts, or the Heineken JazzFest in Puerto Rico, where she has shared program alongside such artists as Paco de Lucía and Michel Camilo.

She has recently recorded her first album for Casa Limón, which has been produced by the Grammy Award winning composer/producer Javier Limón (Paco de Lucía, Bebo Valdés, El Cigala, Buika), and it will be released the upcoming Fall 2012. She has also collaborated with Spanish top artists, including Jorge Pardo, Niño Josele, Agustín Pardo "El Bola", Sandra Carrasco, Javier Limón, José Mercé, and Alejandro Sanz. Ariadna graduated from both Guildhall School of Music in London, and Berklee College of Music in Boston, where she was awarded with the prestigious Presidential Scholarship, becoming the first Spanish musician to receive this recognition.

http://ariadnacastellanos.com/
Roma Carnivale (Canada)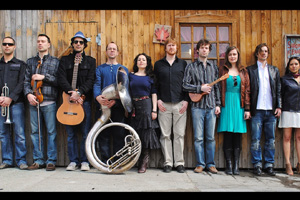 Roma Carnivale is a 9-piece band based in Montreal who play Gypsy music in the Serbian tradition, inspired by punk, jazz, and New Orleans brass band music. Their blisteringly energetic live performances have captivated audiences across Quebec. Led by Serbian-born singer/songwriter Dusan Dukic, their unconventional lineup includes a sousaphone, ukulele, accordion, violin, trumpet, guitar, drums, and 4 singers. Their goal is to celebrate the beauty of life… and make you PARTY!!!

http://www.facebook.com/romacarnivale
Raya Brass Band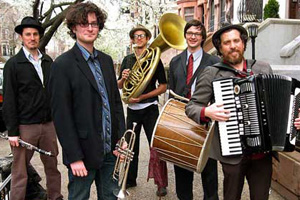 Raya Brass Band (pronounced "RYE ah") is the sort of brass band that gleefully mashes up the music of Eastern Europe with funky American dance grooves. Featuring odd meters, unusual scales and a fine helping of gorgeous Balkan and Romany (Gypsy) melodies played on reeds, trumpet, accordion, tuba and drums, Raya Brass Band slakes the thirst for something old and new at the same time, unusual and funky, spiritedly played by some of NYC's finest Balkan folk musicians. Raya Brass Band draws in both average listeners and Eastern European folk music aficionados alike with its energetic and engaging portable show. As a fully acoustic ensemble, Raya Brass Band can wander freely, bringing a Balkan style dance party everywhere it goes. With members of the band ready to teach basic Balkan dances at the drop of a hat, the audience can choose to listen, learn some new dance steps, or shake everything they've got however they like! Since its inception, Raya Brass Band has thrilled audiences throughout New York City at events ranging from wild parties, Mardi Gras celebrations and large Balkan music festivals to humble community concerts and impromptu "guerilla" shows. By channeling the festive, exciting and spontaneous music of the Balkans, Raya Brass Band brings the organic and joyous experience of the Eastern European village brass band to its own "village" of Brooklyn, NY.

http://www.rayabrassband.com/


Veveritse Brass Band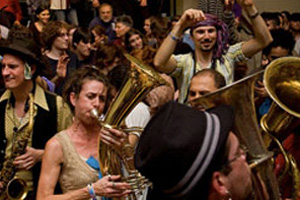 Veveritse Brass Band finds its inspiration in the drama of the Romany(Gypsy) music of the Balkans. With an eye to the powerful exactitude of these melodies, Veveritse makes room for play. Slippery, squirrelly even, they may start off running almost too fast, only to drop the bottom out; what begins sonorous and jagged straightens up, and carries you into the night....dancing, sighing. With two trumpets, a saxophone, four mid-horns, a tuba and two drummers, they are ten deep, creating not a wall of sound, but a loud tapestry. Members of the band also play in other great NYC bands like Romashka, Hungry March Band, Zlatne Uste, The Woes, Ansambl Mastika, and Stagger Back Brass Band....not to mention the infamous and nefarious "Top Secret Attack Band"! Veveritse, with it's theatrical bent, has already scored two different nights of films, played benefits, parties and numerous clubs. They are available for all kinds of occasions....weddings, private parties, afternoon tea, preschool graduations, feline coronations and divorces. .

http://www.facebook.com
Sepiatonic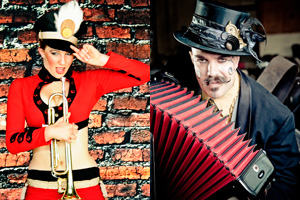 Sepiatonic is Karolina Lux and Eric Stern, two wildly creative artists. Karolina is an innovator, performer, and choreographer trained in, and constantly pushing the limits of Belly-esque (her tasteful, original creations of burlesque plus belly dance) and various vaudeville theater styles of dance. Eric Stern is the Northwest's own premiere operatic tenor, accordionist, pianist, composer, founder and artistic director of Vagabond Opera.

http://www.karolinabellydance.com
http://ericsternevents.com
DJ Ipek (Germany/Turkey)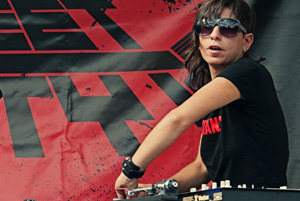 Ipek Ipekcioglu is one of the hottest DJs of the Berlin club scene and as internationally known Queen of "Eklektik Berlinistan," publisher of the award-winning Beyond Istanbul CD series at the record label Trikont and, among others, Curator of the Beyond Istanbul concerts at Ballhaus Naunystraße in Berlin. She is known for her seductive fusion sound & dance music from Turkey, OrAsia and the Balkans. In her sets, she refers to folk electro fusion, Gypsy Funk & Break Beats & Pop, House & Minimal and Berlin Electro. Ipek takes her audience on an aural journey through different cultures of the Middle East, the Balkans and Turkey with carefully planned escapades to the UK and the USA. Her mixes provide surprising breaks to the steady course of club music today.

http://www.djipek.com/

Sazet Band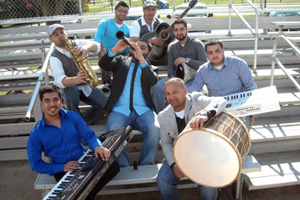 Sazet Band, an eight-piece Romani wedding band from New York City. Sal Mamudoski- clarinet; Romeo Kurtali- sax/clarinet; Caner Tokgozol- solo keybords; Remzi Demo- bass keyboards; Kurte Kurtali- drums; Amdi Seyfedinov- doumbec/ percussions; Beni Kurtis- vocals; Sazet band was formed in 2011 under the leadership of Sal Mamudoski & Romeo Kurtali.

Our eight-piece wedding band is composed of Roma from Macedonia and Turkey. The band performs traditional folk and Romani music from the Balkans (Macedonia, Bulgaria, Serbia, Albania, Greece and Turkey), but has influences from classical, jazz, funk, techno, and fusion styles of western music. We wanted to do something very different from the music that comes from the Balkans in Europe, so we needed the right musicians for this project, ones who would know the traditional music very well and how to form it with western style of music. We call it "New York City-style" of Roma music. Basically east meets west. The music we perform has complex rhythms, great melodies, dense ornamentations and amazing improvisations. Sazet band has performed at a number of weddings & concerts, and was honored to perform at the 2012 Golden Festival in New York City. Sazet band is working on an album which we expect to release sometime during October 2012.

Romski Boji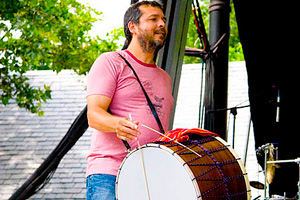 A Roma born to a singer mother and a folk dancer father in Prilep, Macedonia, Seido has palyed darbuka / dumbek in Balkan and Middle Eastern style for 30 years. With his extensive experience playing Turkish, Greek, Balkan, and Middle Eastern percussion combined with flare of jazz from studying at Berklee College of Music in Boston, his unique virtuosity has set him apart from the pack worldwide. After frequently playing music in the now-legendary Middle Eastern nightclubs such as Ali Baba and Port Said in Manhattan closed, Seido started truly developing and aumenting the style of dumbek playing with his unique approach.

In the early 90's, he joined forces with Matt Dariau, as a member of highly influential Matt Dariau's Paradox Trio. Paradox Trio spearheaded the downtown New York Balkan Jazz movement, catapulting Seido into a household name in the genre, with his unique virtuosic darbuka/dumbek style that seamlessly combined jazz and Balkan technique. Seido has played with such notable artists as Tarkan, Omar Faruk Tekbilek, and Ivo Parazov. He also accompanied Tayyar Akdeniz and his dance troupe, while traveling to teach at several Balkan and Turkish music and dance camps on both coasts, such as EEFC Balkan Music & Dance Workshops (CA & MA/NY), and Middle Eastern Music and Dance Camp (PA). Balkan Brothers, the collabotation with his life-long friend, Ismail Butera, continues in local nightclubs and concert halls, as well as his own ensemble, Romski Boji..

http://www.seidoism.com/


Petra Gelbart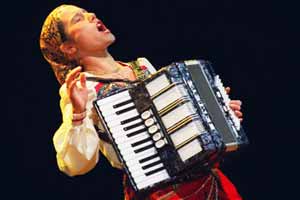 Petra Gelbart, Ph.D., a founding member of the band Via Romen, is a Romani musician, activist and scholar who is at home both in the Czech Republic and the U.S. Petra combines the Romani vo­cal production she learned from her family with elements drawn from more improvisational and popular genres. She recently completed her doctorate in ethnomusi­cology at Harvard University with a dissertation entitled "Learning Music, Race and Nation in the Czech Republic." She promotes the rights of minority children, particularly those in state care and foster care. Petra is currently starting a center for Romani people and music at New York University.

http://www.romawoman.org


Aaronb Yeger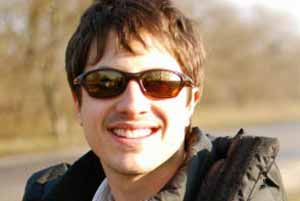 Aaron Yeger attended the School of Image Arts at Ryerson University, where he garnered several awards, including the Norman Jewison Filmmaker Award, the Harvey Hart Directing Award and two Universal Studios scholarships. He has worked as a story producer for television, as a screenwriter, and as writer and director of commercials, short films and documentaries. A People Uncounted is Yeger's first feature-length film.

http://www.apeopleuncounted.com