Dunkelbunt & The Secret Swing Society (Austria)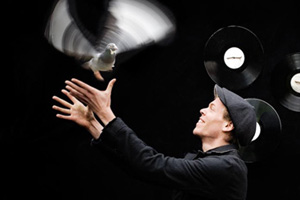 dunkelbunt aka Ulf Lindemann surely counts among the most influential global beat troubadours of the early 21st century. Not only is he known for his work as a composer, producer, DJ, radio editor and multi instrumentalist, but also for his exquisit remixes of and cooperations with international artists such as Balkan Beat Box, Amsterdam Klezmer Band, Boban Markovic Orkestar, Fanfare Ciocarlia, Watcha Clan, Harry Stoijka, 17Hippies and Waldeck, just to name a few.
Lindemann started his musical career as a youngster with producing Hip Hop and electronic music. Later on he studied Jazzpiano, began to work as a DJ and organised and hosted live-performances and clubnights. Born and raised in Hamburg, Germany, Lindemann moved to Vienna in 2001. Initially inspired by its rich electronic music scene, he quickly fell for Vienna's unique cultural "Melange", its musical diversity that unites influences of traditional music from the Balkan to the Orient. Although his musical essence is based upon the south-eastern corners of Europe, sounds from all around the world are to be enjoyed: from Vienna to the Balkans, through Anatolia and the Middle East, to India, North Africa, all the way to South America, to Jamaica and then straight to the swinging North American Thirties.
http://www.dunkelbunt.org
Canzoniere Grecanico Salentino (Italy)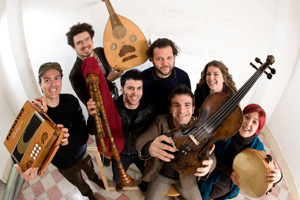 The original brain child of the writer Rina Durante, Canzoniere Grecanico Salentino (Best Italian World Music Band - MEI 2010) is the foremost and longest standing traditional music band from Salento, in Puglia, who came together in 1975. In 2007 the lead passed from the original founder of the band, Daniele Durante, to his son Mauro, already a highly regarded frame drums player and violinist who has played with numerous artists, such as Ludovico Einaudi, Piers Faccini, Ballake Sissoko, Ibrahim Maalouf, Stewart Copeland and La Notte della Taranta. The 26 years old Mauro Durante lead the Canzoniere when they opened the Concertone of La Notte della Taranta in Melpignano, performing live in front of over 100,000 rousing people.

With a range from the energetic pizzica pizzica, to the tenderness of songs of love and longing; from the festa like exuberance of a local band to an ironic glance towards modernity, Canzoniere made the history of Italian world music. Canzoniere's live concerts are a life explosion: full of energy, passion, rhythm and mystery, they bring the audience from the past into modernity, and back. With 16 albums and numerous performances in Europe, the Middle East and the USA, Canzoniere have always evoked an enthusiastic response from audiences and sensitively admiring reviews from the music press.

http://www.canzonieregrecanicosalentino.net
Gabby Young and Other Animals (UK)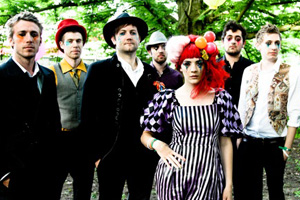 The youngest ever recruit to the National Youth Opera at the age of 12, Gabby was on track to become an opera singer until finding inspiration in a diverse set of artists such from Jeff Buckley to Ella Fitzgerald and other jazz greats to Janis Joplin and Bikini Kill. With this revelation, Gabby focused her talents on the unconventional. As Gabby further discovered gypsy jazz and Django Reinhardt, she fell in love with the unhinged and liberating elements of the virtuosic music, finding an equally bold voice within herself. Enlivened with this inspiration, Gabby spent her time touring the UK and experimenting with new musical forces.

Today, Gabby Young & Other Animals electrify with their distinctive style and diverse appeal. With flaming red hair and panache to match, Gabby Young acts as the avant-garde ringleader of a menagerie of instrumentalists and voluminous melodies. Take a listen to Gabby's soaring, pitch-perfect voice and the stunningly unique and imaginative songs and it becomes clear that Gabby Young embodies a major emerging force in modern music – an unconventional fusion of global influences combines pop and folk with hints of Balkan brass, blues and jazz from an aural antiques shop in a century yet to come.

http://gabbyyoungandotheranimals.com
SoCalled (Canada)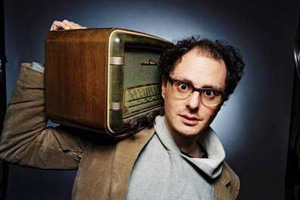 Socalled is a pianist, producer, composer, arranger, rapper, singer, journalist, photographer, filmmaker, magician, cartoonist and puppet maker based in Montreal, Quebec. After several solo albums including, "The Socalled Seder" and 2007′s "Ghettoblaster", which featured the breakout hits, "The Good Old Days" and "You Are Never Alone", 2011 brings us "Sleepover". "Sleepover" further articulates this great artist's mission to cross boundaries, mix old and new sounds, acoustic and electric instruments, digital and analog recording techniques, while exploring different cultures and styles, all in the service of creating something catchy, smart, hilarious, emotional and timeless.

Socalled has lectured and led master classes in music festivals around the world, from Moscow to Paris, London to LA, Krakow to San Francisco, and has performed on every continent in the world. As a producer, Socalled has created, amongst others, "Bubbemeises"for David Krakauer's Klezmer Madness, "Tweet Tweet", for klezmerfunk supergroup "Abraham Inc" featuring Fred Wesley, and Enrico Macias' latest album "La Voyage d'une Melodie". His list of collaborators knows no generational, social, cultural or religious boundaries: He has played with, featured, recorded and arranged for Chilly Gonzales, Fred Wesley, Boban Markovic, the Mighty Sparrow, Roxanne Shante, Irving Fields, Killah Priest, Matisyahu, Theodore Bikel, Katie Moore, Enrico Macias and Derrick Carter.

http://www.socalledmusic.com
The Freak Fandango Orchestra (Spain)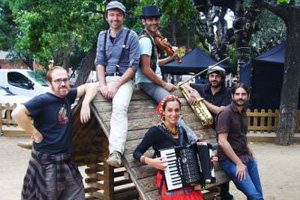 The Freak Fandango Orchestra is a multi-ethnic band from Barcelona. Their music is an explosive mixture of folk, polka, gypsy music from the Balkans and punk-rock. Formed by six musicians (guitar, bass, drums, violin, saxophone and accordion), the Orchestra is influenced by artists like Emir Kusturica And The No Smoking Orchestra, Goran Bregović and Gogol Bordello. It's time to move it, sing, jump and dance to The Freak Fandango Orchestra's punky-folky songs and humrous lyrics.

http://www.freakfandango.es
Csaba Toth Bagi (Serbia/Hungary)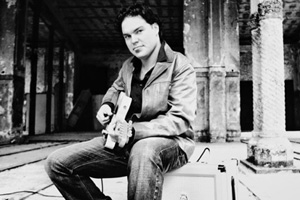 Guitarist and singer Csaba Toth Bagi has been a fixture of the Hungarian music scene since his teenage years, well known for his powerful voice and his soulful and technically brilliant guitar playing. His rootsy blues and jazz style is greatly influenced by his Balkan upbringing, his Hungarian musical education and his years touring internationally with renowned guitarist Al Di Meola. Raised in Serbia in a family of musicians who later settled in southern Hungary in 1993 during the Yugoslavian war. Csaba recorded his first blues album at the age of 16. Other new albums followed including "A Tribute to Jimi Hendrix" and "Nelkuled (Without You)," a melodic collection of vocal compositions influenced by traditional Hungarian style with a pop delivery.

Csaba has been touring and performing throughout Eastern Europe with his bands which often include traditional Gypsy instrumentalists. In 2004, his trio CsaboWabo was chosen to represent Hungary at the Jazz in the Park European Union Exhibition and Festival in Bangkok, Thailand. Additionally he worked with Ennio Morricone as musical director and guitar player at the National Theatre and Open Air Theatre of Szeged, Hungary. Currently Csaba is finishing his latest project of original compositions combining traditional Macedonian, Serbian and Hungarian melodies and rhythms into a jazz structure. The project has excited the attention of US jazz musicians Al Di Meola, Dave Weckl, Ernie Adams and Butch Thomas; Cuban percussionist Gumbi Ortiz; Italian accordionist Fausto Beccalossi and Macedonian keyboard player Vasil Hadzimanov, who have all added their own personal style to this unique fusion recordings.

http://www.csabatothbagi.com
A Hawk And A Hacksaw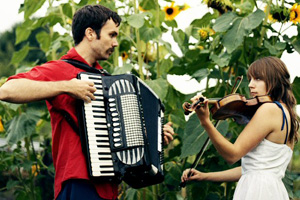 A Hawk and a Hacksaw hails from Albuquerque, New Mexico, and consists of accordionist Jeremy Barnes (Neutral Milk Hotel, Bablicon) and violinist Heather Trost. The band's sound reached many a listener's ear when they recorded with Beirut on the breakout album Gulag Orkestar in 2006, but their subsequent three recordings (and new album CERVANTINE in particular) is a move further East - to the asymmetric rhythms of Macedonia, Bulgaria, and Greece. On first glance, the desert mountains of New Mexico don't seem like an obvious home for a band that specializes in its own blend of music from the former Yugoslavia, Greece, Turkey, and Romania. But there is more to the connection than the untrained eye can see. The group explores the mariachi influence on Romany brass that flourished thanks to the Latin American soap operas popular across Eastern Europe.

When A Hawk and a Hacksaw play big cities like New York, expect to see a cross-section of Central and Eastern Europe represented in the audience. The Turks will sing along to the classic song "Uskudar," whose melody has traveled from country to country, so others will hum along too. But what's to be expected from a band that recorded with Fanfare Ciocarlia in the Romanian hinterland, has played with Roma musicians on the streets of Amsterdam and out on the Jaffa road, performing to both Hassids and Palestinians; in a sculptor's tree house outside of Budapest; and at a Jewish wedding in Pittsburgh anyway?

http://ahawkandahacksaw.net
Dark Dark Dark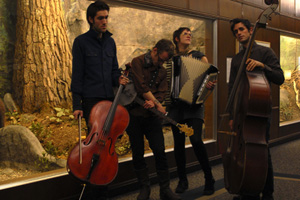 American chamber folk band Dark Dark Dark began in 2006 as a collaboration between Minneapolis based musicians Nona Marie Invie and Marshall LaCount. These two songwriters bring together disparate influences including minimalism, New Orleans jazz, Americana, Eastern European folk, and pop. Using stark contrast in texture, tone and imagery, the band has expanded and redefined their sound along their musical journey.

Listeners everywhere are having a very emotional response to Dark Dark Dark's music. Their sophomore album, titled Wild Go, is ambitious and layered, welcoming and familiar, and reminds us to seek out the wonder and magic that surround us all the time. Their sound sets Nona Marie Invie's soaring, haunted voice against an array of traditional instruments, balancing folk and high-art. As Pitchfork notes, "Perhaps Dark Dark Dark's true accomplishment here is how they mix sounds and influences so effortlessly. They comprise a tight, intuitive unit, especially when the instruments swirl together into an otherworldly eddy of sound."

http://www.myspace.com/darkdarkdarkband
Pillars and Tongues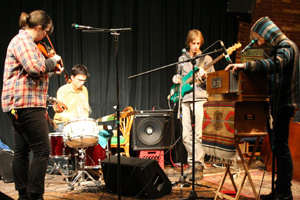 Pillars and Tongues is a formidable force, large and looming, whose musical pursuits defy genre categorization. The ongoing result of these pursuits has been called, variously, "holy" and "sexy" and it may well be the tension between these two concepts which lights the fire under Pillars and Tongues. The trio makes extended use of the human voice, violin, double bass, drums, bells and organs. The music is perhaps distinctly American in both its affair with American forms and its refusal to adhere to them at all. Heavily melodic, rolling, desert drones permeate the music of Pillars and Tongues, rendering the listener captive to deeply hypnotic vibes punctuated by heavy, danceable and almost tribal, rhythms. The band has drawn comparisons to everything from Dead Can Dance and Peter Gabriel to Godspeed you! Black Emperor to Arvo Pärt to John Fahey.

In the past three years, the group has released a handful of limited recordings on several American boutique labels, as well as three full-length releases. The trio of Mark Trecka, Beth Remis, and Evan Hydzik has variously undergone expansion to a quartet with the addition of Ben Babbitt and also seen variations on the trio form. In whichever formation Pillars and Tongues takes, when just right, their voices and instruments blend like the reeds of a pipe organ to create something that is altogether far greater than the sum of their parts. This sort of alchemy is just the type of thing they have been honing for the past few years, performing hundreds of concerts in various other scenarios from basements to cathedrals, from Albuquerque to Lisbon.

http://www.myspace.com/pillarsandtongues
Caramelo
Caramelo is NYC's electrifying Flamenco Funk band and features 10 musicians & dancers who blend the wild Gypsy artistry of Seville with the pulsating rhythms of New York City street life. Caramelo fuses R&B, hip-hop, reggae, latin, and flamenco to create a vibrant theatrical experience bursting with life and passion called "Urban Gypsy Soul." The band performs under the musical direction of Jed Miley (Flamenco Vívo), features the dazzling dances and vocals of Sara Erde, Sol "La Argentinita," Isabel del Día, and Xianix Barrera. Additionally, their band consists of Vladimir Shvets (digital accordion), Jose Moreno (percussion, flamenco guitar, vocals), Peter Basil (drums), Joshua Castillo (drums), and Alvaro Benavides (bass).

http://caramelobeat.com


Frank London's Klezmer Brass All-Stars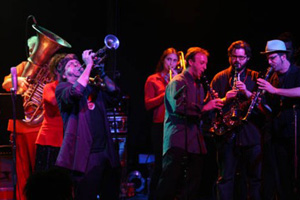 Trumpeter/composer Frank London, a member of the Klezmatics and the Hasidic New Wave, and has performed with a wide range of artists from John Zorn, LaMonte Young to They Might Be Giants and LL Cool J. He is featured on over 100 CDs and his projects include the folk-opera A Night In The Old Marketplace, Frevo Bombastico and The Brotherhood of the Brass. He was music director for David Byrne and Robert Wilson´s The Knee Plays, taught Jewish music in Canada, and produced CDs for Gypsy legend Esma Redzepova, and Algerian pianist Maurice el Medioni.

http://www.franklondon.com
Roger Davidson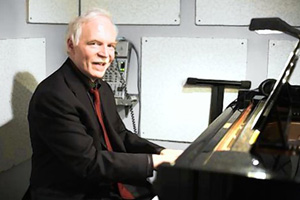 Those who know pianist and composer Roger Davidson's work in classical choral music, jazz, Brazilian music, and tango, might be surprised by "On the Road of Life," a recording of original songs in klezmer style. Klezmer is an instrumental music tradition of the Ashkenazi Jews of Eastern Europe. It's a mostly festive music, originally performed for dancing at weddings and other joyful events. It shouldn't surprise then that for Davidson -- born in Paris to a family with American, French, and German roots, raised in New York, and curious since childhood about the big world outside – klezmer might suggest both, honoring old bonds but also a world of possibilities.

"On the Road to Life" is not a traditional klezmer music recording. For Frank London, trumpeter, bandleader, and the album's arranger and producer, "On the Road of Life represents the sound of klezmer distilled through Roger Davidson. "Is this a traditional klezmer album? No," says London. "You have all the instruments of a traditional klezmer band, and the players know the tradition. And we put ourselves into this music to make it a living thing, not a museum piece. What Roger has created is part of contemporary tradition – which is a lot broader than the old tradition."

http://www.rogerdavidsonmusic.net
Zlatne Uste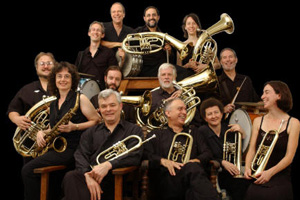 From Kolos to Kusturica, experience the rich sounds of driving Balkan brass. Zlatne Uste (Golden Lips) is an internationally known group of American-born musicians playing traditional music of the Balkans, primarily representing Serbian, Macedonian, Bulgarian and Romany (Gypsy) traditions. Four-time invited guest at the Dragachevo Brass Festival in Gucha, Serbia, the 12-piece band is among the foremost presenters of traditional Balkan dance music in the United States. Each year Zlatne Uste hosts and produces the Golden Festival, New York's biggest and best Balkan music festival with an astounding 40 or more bands and something for everyone.

http://www.zlatneuste.org

Raya Brass Band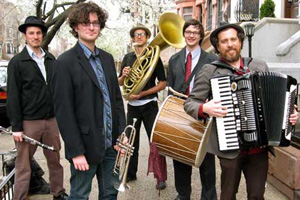 Raya Brass Band (pronounced "RYE ah") is the sort of brass band that gleefully mashes up the music of Eastern Europe with funky American dance grooves. Featuring odd meters, unusual scales and a fine helping of gorgeous Balkan and Romany (Gypsy) melodies played on reeds, trumpet, accordion, tuba and drums, Raya Brass Band slakes the thirst for something old and new at the same time, unusual and funky, spiritedly played by some of NYC's finest Balkan folk musicians.
Raya Brass Band draws in both average listeners and Eastern European folk music aficionados alike with its energetic and engaging portable show. As a fully acoustic ensemble, Raya Brass Band can wander freely, bringing a Balkan style dance party everywhere it goes. With members of the band ready to teach basic Balkan dances at the drop of a hat, the audience can choose to listen, learn some new dance steps, or shake everything they've got however they like!
Since its inception, Raya Brass Band has thrilled audiences throughout New York City at events ranging from wild parties, Mardi Gras celebrations and large Balkan music festivals to humble community concerts and impromptu "guerilla" shows. By channeling the festive, exciting and spontaneous music of the Balkans, Raya Brass Band brings the organic and joyous experience of the Eastern European village brass band to its own "village" of Brooklyn, NY.

http://www.rayabrassband.com

Alessandra Belloni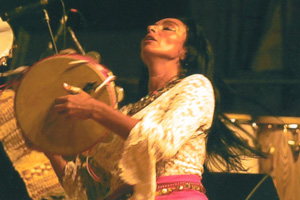 Alessandra Belloni is the Artistic Director, Founder and Lead Performer of "I Giullari Di Piazza", an Italian Music, Theatre and Dance Ensemble. She is the only woman in the U.S. and in Italy who specializes in traditional Southern Italian folk dances and percussion that she learned from the old people in the fields. She is also Artists-in-Residence at the Cathedral of St.John the Divine in New York City. She is also the designer of a line of signature series Italian tambourines made by Remo, and of special brushes for tambourine with Pro- Mark.

A tambourine virtuoso, singer, dancer and actress, Ms.Belloni was born in Rome, Italy and is committed to preserving the strong and rich traditions of her culture. She has performed extensively with master drummer Glen Velez. Alessandra was also selected as one of three runners-up in DRUM! magazine's "New Age/Worldbeat Percussionist" category in their 1998 awards. She was featured in Modern Drummer magazine and has written articles for Percussive Notes. The CD "Tarantata: The Dance of Ancient Spider" (on the Soundstrue label) released in 2000, has received a wide critical acclaim and distribution. It was also nominated one of the best CDs of the year (2002) by Jon Parales from the New York Times and Dan Hackman from the Los Angeles Times, and won the Best World Percussion CD of the Year by DRUM Magazine.

http://www.alessandrabelloni.com