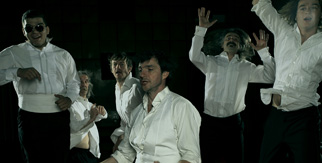 Little Cow is a fine mix of joy and melancholy, humour and lyricism. Gypsy-tinged ska/rock/funk pop songs performed by charismatic musicians. Real party music that makes your feet move and keep your mind work. One of Hungary´s most popular bands, Little Cow's album "I´m in love with every lady" was published by EMI in Hungary leading to a live session on Radio Multiculti in Germany. In 2007 the album became a Platinum Album in Hungary. This year the band has done a successful spring tour in Austria and Germany, has played in Slovakia and the Czech Republic and is invited to the Lowlands Festival in The Netherlands. The band played to cheering fans at GloblFest and Joe's Pub in New York. Their song "Viragok a reten" (featuring their gypsy friends Romano Drom) has been selected on the Top of the World album of the Songlines Magazin, UK and the Gypsy grooves album of Putumayo World Records.
http://www.myspace.com/littlecowband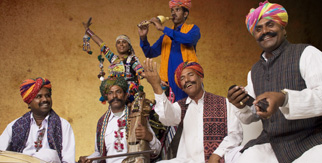 From the windswept Great Thar Desert in Rajasthan ("The land of kings") in northwestern India comes Rhythm of Rajasthan with its mesmerizing music and dance. The musicians, from the Langa (Song giver) and Manghaniyar hereditary groups of itinerant entertainers, perform vibrant and joyous folk music, encompassing driving percussion, ecstatic Sufi songs, and hypnotic sarangi (bowed lute) and algoza (double flute). On stage the bands is joined by the famed Sua Devi, a dancer in the film Latcho Drom, who performs the sensuous Kalbeliya Sapera snake-charming dance and the spectacular Bhavai folk dance.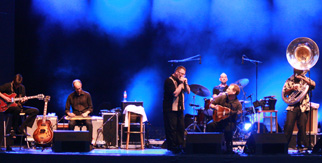 Hazmat Modine plays the kind of Blues one might have found in a whorehouse in New Orleans had the city been built on the Black Sea somewhere alongside Macao and inhabited by Gypsies. Drawing from the rich soil of American music of the 20's and 30's through to the 50's and early 60's, blending elements of early Blues, Hokum Jugband, Swing, Klezmer, NO R&B, and Jamaican Rocksteady, the band is driven by a pair of dueling Harmonicas, backed by Tuba, Drums, Guitars, and Trumpet with the addition of special guests playing exotic instruments such as the Claviola, the Cymbalum or the Chinese mouth-organ, the Bass Sax and the Normaphone. Frontman Wade Schuman, has the appropriately throaty voice of someone who has both hopped freight trains and collaborated with the Throat Singers of Tuva. In addition to his own material the band cover tunes by Slim Gaillard, Jimmy Rogers, Jaybird Coleman, and Irving Berlin.
http://www.myspace.com/hazmatmodine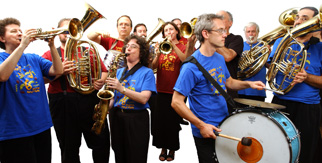 From Kolos to Kusturica, experience the rich sounds of driving Balkan brass. Zlatne Uste (Golden Lips) is an internationally known group of American-born musicians playing traditional music of the Balkans, primarily representing Serbian, Macedonian, Bulgarian and Romany (Gypsy) traditions. Four-time invited guest at the Dragachevo Brass Festival in Gucha, Serbia, the 12-piece band is among the foremost presenters of traditional Balkan dance music in the United States. Each year Zlatne Uste hosts and produces the Golden Festival, New York's biggest and best Balkan music festival with an astounding 40 or more bands and something for everyone.
http://www.zlatneuste.org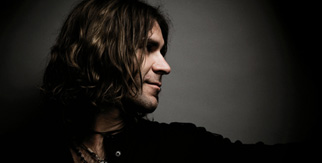 When Ilhan Ersahin started playing saxophone over twenty-five years ago, he never could have imagined where it would take him. First making a name for himself strictly as a jazz saxophonist, Ersahin released "She Said" in 1996 and "Home" in 1997 to wide success, especially in his homeland of Turkey. But soon after, Ersahin fused his playing into the mix with electronic music, a then-burgeoning genre. The result was Wax Poetic, a group that had elements of Thievery Corporation and Joe Henderson all at once. Ilhan's work with Wax Poetic brought him to collaborations with Saul Williams, N'Dea Davenport, and the then-unknown Norah Jones; and it also propelled him into the world of Nublu - the club Ersahin opened in the summer of 2002. Offering a truly unique, living-room-like environment for him and his fellow musicians, Nublu became a breeding ground for some of the most original and exciting music coming out of New York. In addition to becoming a hothouse for live music, Ersahin's Nublu also spawned a record label. Beyond being an established jazz player, who has performed with Eddie Henderson, Sam Rivers, John Zorn and Butch Morris among others, Ersahin has started a veritable empire in Nublu.
http://ilhanersahin.com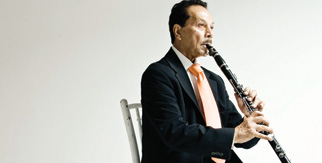 It was natural that Barbaros would follow in the footsteps of his musical forefathers. In Turkey, Roma musicians generally come from musician families, where training is fostered as much at home as with outside teachers. Erkose began playing the clarinet at age 12. He took lessons with clarinetist Osman Ozkabak of the Cumhurbaskanligi Armoni Mizikasi (The military band of the Turkish Republic´s Presidency) and learned the Western clarinet technique from him. In 1961 he moved to Istanbul and passed the radio exam playing with artists such as Mesut Cemil Bey (son of Tanburi Cemil Bey), Yorgo Bacanos, Sadi Isilay, Necati Tokyay, Hilmi Rit, Necdet Yasar and Serif Icli. During this period, he was the first to bring clarinet into the fasil ensemble solo programs. He also performed with his brothers as the Erkose Kardesler (The Brothers Erkose) in first class nightclubs such as Tepebasi, Kasablanka and Maksim Gazino.

While continuing to perform with the Istanbul TRT, Barbaros began to receive international recognition when he performed in France in November 1984 as the Erkose Brothers, representing the Roma music of Istanbul. Then the group toured throughout France, North Africa, Finland and Holland. Due to growing critical acclaim, Barbaros forged a solo career and fusion projects with musicians from other cultures. These include work with Peter Pannke on his Morungen project, several recordings and concerts with Tunisian oudist Anouar Brahem, and most recently concerts and a recording with African-American jazz musician Craig Harris and his group, The Nation of Imagination. In Turkey, he has retired from TRT but continues to record and perform live.
http://www.myspace.com/barbaroserkose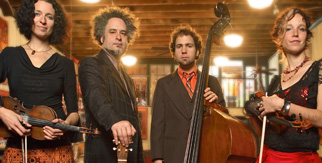 The Luminescent Orchestrii is Romanian gypsy melodies, punk frenzy, salty tangos, hard-rocking klezmer, haunting Balkan harmony, hip-hop beats and Appalachian fiddle, all eaten and spit out by two violins, resophonic guitar, bullhorn harmonica and bass. The members of the Orchestrii come from different scenes in New York City, yet come together through their love of Balkan and Gypsy music. Sxip Shirey is an international circus composer, Sarah Alden is an old-time fiddle player, Rima Fand is an experimental theater composer, and Benjy Fox-Rosen is a free-jazz bassist. It is not uncommon to find Sxip playing tampon applicators with the Bindlestiff Family Cirkus, Rima composing music for a Lorca puppet show, Benjy schlepping his bass to a jazz gig, or Sarah fiddling away at some all-night old-time session. Since 2002, when the band was formed, the Luminescent Orchestrii has toured the East Coast, England, Scotland, and Germany, and have traveled to Romania, Macedonia, Turkey and Serbia for inspiration. They most recently returned from Serbia´s Dragacevo Trumpet Festival, a 47-year-old festival that takes place in the small town of Guca, where hordes of competing gypsy brass bands take to the streets and restaurants.
http://www.lumii.org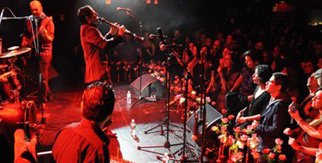 Under the leadership of the young Macedonian / Turkish clarinet virtuoso Ismail Lumanovski, the New York Gypsy All Stars Band has amazed audiences with their jazz-inflected Gypsy and Turkish songs. In addition to Ismail Lumanovski from Macedonia on clarinet, the All Stars showcases some of NY's finest musicians including Tamer Pinarbasi from Turkey on qanun, Panogiotis Andreu from Greece on bass, and Engin Gunaydin on drums. The band performed with such world music icons as Turkish clarinet master Husnu Senlendirici and Bulgarian virtuoso Ivo Papasov. Time Out New York calls Lumanovski "an adventurous, modern-minded frontman, who leads his band through a varied terrain of Balkan, Turkish and Romany selections, spiked with jazz and Western styles."
http://www.myspace.com/nygypsyallstars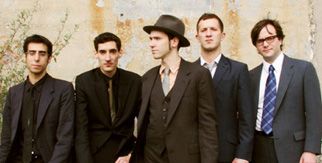 The Sway Machinery is an all-star collective of innovative visionaries led by guitarist Jeremiah Lockwood of Balkan Beat Box. The Sway Machinery's line-up includes Brian Chase of the Yeah Yeah Yeahs on drums, touring member of Arcade Fire Colin Stetson on bass saxophone, and Stuart Bogie and Jordan McLean of the Antibalas horn section on tenor saxophone and trumpet respectively. The band's combination of rhythmic power and potent folklore takes no prisoners. On stage the energy of submerged worlds is torn out into the light of day. And indeed, the historical tradition of Cantorial music, which is the focus of the band's work, is very much a lost world. The music of The Sway Machinery invites the listener to become like children wandering in the forest, discovering something mythic and wonderful. Lockwood's deeply personal relationship to blues and the soulful and ancient heritage of Synagogue music helped him to forge a unique musical language of his own. The release of Sway Machinery's debut album "Hidden Melodies Revealed" in 2009 has been followed by performances internationally, notably at the 2009 Krakow Jewish Culture Festival. Recently, a track from the record was featured on the popular television series Weeds.
http://www.swaymachinery.com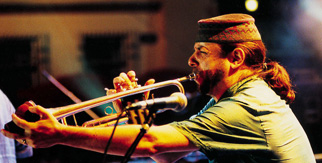 Trumpeter/composer Frank London is a member of the Klezmatics and the Hasidic New Wave and has performed with a wide range of artists from John Zorn, LaMonte Young to They Might Be Giants and LL Cool J . He is featured on over 100 CDs. His projects include the folk-opera A Night In The Old Marketplace, Frevo Bombastico and Brotherhood of the Brass. He was music director for David Byrne and Robert Wilson´s The Knee Plays, collaborated with Palestinian violinist Simon Shaheen, taught Jewish music in Canada, Crimea and the Catskills, and produced CDs for Gypsy legend Esma Redzepova, and Algerian pianist Maurice el Medioni.
http://www.franklondon.com